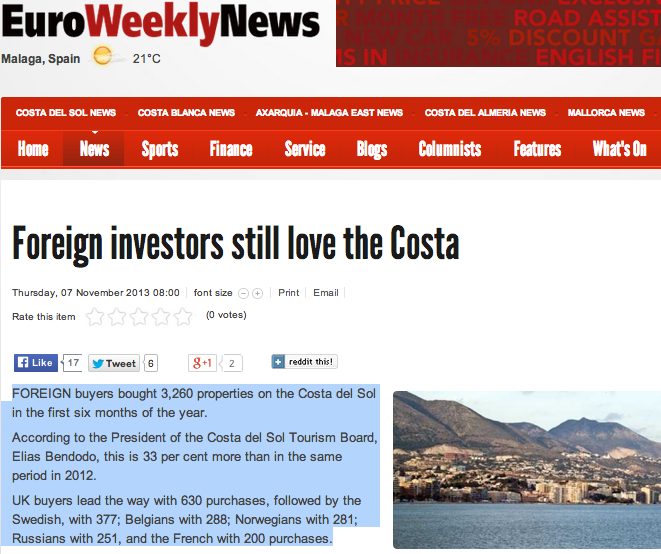 FOREIGN buyers bought 3,260 properties on the Costa del Sol in the first six months of the year.
According to the President of the Costa del Sol Tourism Board, Elias Bendodo, this is 33 per cent more than in the same period in 2012.
UK buyers lead the way with 630 purchases, followed by the Swedish, with 377; Belgians with 288; Norwegians with 281; Russians with 251, and the French with 200 purchases.
The Russians, however, are the biggest spenders, and spend between €300,000 and €500,000 on a property.
Bendodo announced this at the World Travel Market in London when presenting the 'Living Costa del Sol' project, which is being developed between the Costa del Sol Tourism Board and the Malaga Association of Builders and Promoters. The idea will also be presented at the 'A Place in the Sun' Residential Tourism Fair in March, which is one of the most successful in Britain, he said.
Visitors to the fair will be able to get information regarding properties in Malaga province and will be offered full guarantees of safety in their purchase. More than 5,500 visitors are expected at the fair with an average budget of €187,000 for buying properties mainly in Spain, France, Portugal, Turkey and Florida.
543 Properties sold  a Month in average
Source  Euro Weekly
see some deals click on link underneath