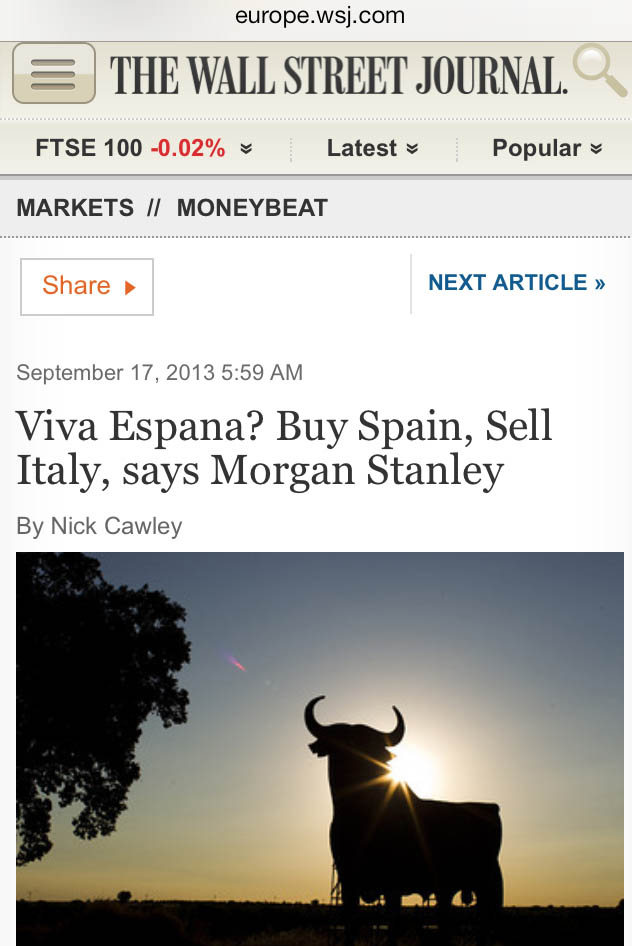 Spain is set to usurp Germany as the strongman of Europe, due to the increasing competitiveness of its exports, say Morgan Stanley analysts, who think fiscal rebalancing will continue in the country despite its current political turmoil.
"Spain, where unit labor costs are falling due to recession and reforms, and where exports performance is strong, is on its way to become the euro area's next Germany," wrote analysts Joachim Fels and Sung Woen Kang in a weekly note on the global economy.
"Germany, helped by super-low interest rates, rising wages and inflating property prices, will see domestic demand improving and its external competitiveness deteriorating."
Fels told CNBC.com it would take three-to-five years for Spain to rival Germany as an export-led economy, due to the time lag before fiscal and structural reforms are felt.
He said that labor costs will remain low in Spain even when it recovers from recession, as "unemployment will still be high for years to come."
Another Quote from Morgan Stanley:
"Viva Espana," wrote Morgan Stanley's rates analysts Friday.
"We are bullish on Spain in outright terms and versus Italy," wrote Anton Heese and Maggie Chidothe at the bank, pointing to Spain's brightening growth outlook, progress on reforms, valuations, and the low risk that th eeuro crisis could blow up anew.
Morgan Stanley is advising investors to buy 10-year Spanish government bonds and sell similar-dated Italian bonds, targeting Spanish bond yields to fall a full percentage point below their Italian counterparts. Currently, the difference is 0.03 percentage points.
Best Regards