Billionaire Hiroshi Mikitani´s company Rakuten buys Viber Internet messaging and calling service for $900 million.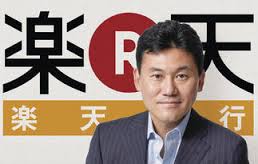 Billionaire Hiroshi Mikitani  is  called "Miki".Estimated net worth of $6.4 billion
Rakuten CEO Hiroshi Mikitani explained in a Tokyo press conference that the company sees Viber as "the most consistently high quality and convenient messaging and VoIP experience available. Simply put, Viber understands how people actually want to engage and have built the only service that truly delivers on all fronts."
He added: "If we didn't buy now, I don't think we could have bought it later, it's growing so fast."
Rakuten owns the largest e-commerce platform in Japan and the sixth largest in the world, with 200 million users.
 Viber grew to 280 million users in nearly 200 countries, it posted a net loss of $29.5 million on revenues of $1.5 million for 2013. Viber employs about 100 people.Viber integrates seamlessly into the user's contact list, enabling free calls to other Viber users anywhere, and calls to non-Viber users for a small fee. The free installation doesn't require registration or choosing an ID separate from your phone number. The app saves a copy of each user's address book on Viber's servers.
Mark Zuckerberg paid $19 billion for WhatsApp in cash and stock.  WhatsApp has 450 million users. Zuckerberg says In my view, Viber is not a messaging app.  It's a Skype clone that makes cheap overseas phone calls.  It's calling first with a little bit of messaging.  That's different than WhatsApp – or Line – which is messaging first with a little bit of free calling (WhatsApp just announced they'd support free calling today).
Viber is a proprietary cross-platform instant messaging voice-over-Internet Protocol application forsmartphones developed by Viber Media. In addition to text messaging, users can exchange images, video and audio media messages. The client software is available for Mac OS, Android, BlackBerry OS, iOS,Series 40, Symbian, Bada, Windows Phone, and Microsoft Windows.
A Linux version is in development, with a public beta released.Viber works on both 3G/4G and Wi-Fi networks. It first requires installation on a phone in order to work on a desktop operating system environment.
Viber Media is a Las Vegas and Cyprus-registered company with its development centers in Belarus and Israel.
The company was founded by Talmon Marco and Igor Megzinik, who are friends from the Israel Defense Forces.The company is run from Israel, with much of its development outsourced to Belarus in order to lower labour-costs.

Founded in 2010, the company is co-owned by its four Israeli founders: Talman Marco, Igor Megzinik, Sani Maroli and Ofer Smocha, who have each increased their investment by over 30 times on the startup's $900 million sale to Rakuten .

The company currently does not generate revenues, but announced it would start generating revenues in 2013 via a "sticker store". The company is funded by individual investors, who Marco has described as "friends and family". As of May 2013, $20M had been invested in the company.
The Rakuten deal is supposed to be closed in March 2014, and reportedly the final purchase price is contingent on Viber meeting certain business targets.