The Spanish Property crisis started in 2008 and more or less ended in 2013.Properties are not falling anymore and people are no longer given up on their mortgages to the Spanish Banks. The time is right to  buy now.
In 2013 Buyers wondered if they bought to early, now it looks like 2013 was the year the marked turned around.And the fear will be to buy before the Spanish Property bargains run out.
Would you like to live in a quite peaceful secure place with +300 sunny day a year?


The perfect answer could be to buy a villa in the nice villa areas on the Costa del Sol.
La Zagaleta is one of Europe´s Most Exclusive Gated Urb. for the Super Rich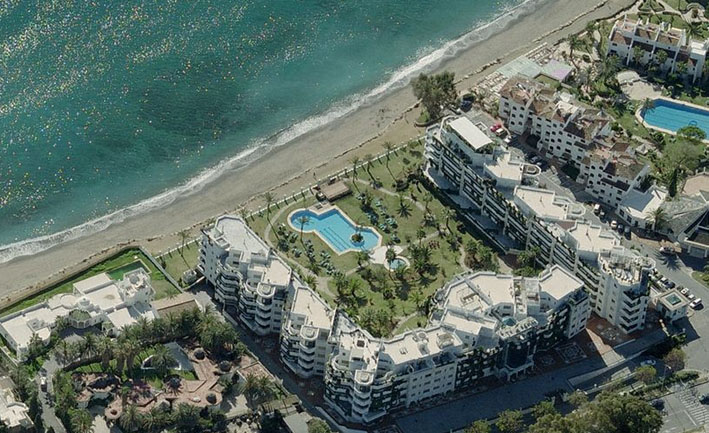 Walking distance , security and sea views are normal requirements.
Wealth, power and productivity:
* In just over 15 years, older people will represent the majority of the population.
* Sixty-nine per cent of 65-74 year olds and 66 per cent of over-75 year olds own their own homes outright.
* Older people own 80 per cent of the private wealth of the UK, with over-65 year olds controlling £460 billion in unmortgaged equity alone – enough money to fund the NHS for ten years.
* Over the last two decades, consumption by Europe's over-50 year olds has risen three times as fast as that of the rest of the population. For example, over-50 year olds buy 80 per cent of all high-end cars.
* The baby boomers are an extraordinary generation: big, bold and powerful. In the UK they number around 17 million, making up approximately 29 per cent of the total population.
* It is estimated that in the UK alone, people over 60 contribute up to £50 billion per year, over 3 per cent of GDP, in unpaid family care.
* There are now an estimated 1.3 million workers of pensionable age (including many women aged 60-64) which represents some 12 per cent of all those in that bracket. Two in three work part-time.
Value:
The over 60's demographic will be the only demographic that expands in the next 40 years. At present 10.1 per cent of the worlds population is over 60 by 2050 there will be over 9bn people in the world, 1/5 or 20.9per cent will be over 60.
UN World Population Prospects: The 2008 Revision
* The over fifties have around 70% of all savings and represent the market for inheritance products and services (Why financial services should value older consumers)
* The 50 plus are the wealthiest and fastest growing group of consumers. (Dick Stroud – The 50plus Market)
It is the fact that the number of grey consumers in the UK is expected to grow by 27% from 2009 to 2028 that is so appealing. In 2028, there will be approximately 30.7 million grey consumers in the UK (47.1% of the entire UK population), providing a massive target audience for providers. Increasing life expectancy, combined with low birth rates, is changing the demographic makeup of UK society.
* Wealth and revenues in Europe of persons over 65 is over €3trillion.
* Wealth and revenues in US of the baby boomer population is over $2tr (Demographic Profile of American Baby Boomers)
* People age 50 and older control more than 50 percent of the total U.S. discretionary income (Expanding your market: Accessibility Benefits Older Adult Customers)
* 80% of the UK's wealth is held by the over 50s (Market Statistics)
Where do you think this older wealthy Generation would like to live?
Where do you think the Rest of the European Countries older People would like to live a quality life?
At the same time South of Spain see many younger people relocating to the sunny climate.
Quite a few wealthy Internet Entrepreneur´s run their business from the Marbella area.
Let me help you, find a bargain in the Marbella area.Please send requirements and I will respond asap.

Please describe what you are looking for and when you plan to visit Spain .
Best Regards
Stefan Katafai
[email protected]
+34 637 97 37 42
http://www.Agent4stars.com
All agents collaborate in South of Spain..Some of the Real Estate companies we work with Costa Del Sol:
1 casa, 21 century estates, 360 degrees marbella, absolute prestige, affinity spain, agnes.inversiones, alamo international, alberts property, alemar-realty,  alma-estates, almar estates, aloha property finder, altavista spain, always marbella, i amigo, amigo prop, Andalucia Development, , andalucian propertie, andalucian property solutions, anda rusia, andersen fox, apart-sol, aqua estates, arden estates, aps marbella, atum.no, aviva andalucia properties, azura zari, bahia estates, bargain andalucia, immobilien yachting, best tilbud,  black horse management,  quicksale deals, brian farrell properties, jef properties, bromley estates marbella, Byrne-properties, campomar spain, casa marbella, casauna, centine lspain, chris-newsham, christiansen estates, claddagh-estates, cloud nine spain, c2 cproperty, cosmopolitan-properties, costa del sol estates, property-spain, sur costa espera, costa garant, costa rents, costas casas, craig lea, crystal shore-properties, csf property, db marbella, daltons international, casas marin, desres marbella, developments worldwide, direct estates, direct property investments, espen dm estates, dpc-costa del sol, dream location espana, dream life property, dream property., e homes, elite-expert, aa elviria estates,  emc homes, e-merging property group, enova estates, marbella costa, escapad amarbella, estate agents marbella, excellent spain, exclusive-marbella, inmo exit, fiesta estates, first 4 property, first choice spain, fm-properties, fp marbella , privat megleren, future homes spain, go blue, golden key marbella, golf and sea properties, , grape vine-properties, greenlife-estates, vime hotels, hacienda-estates, haciendas-garcia, halcyon real estate, per hansen, harlequin marbella, headquarter investments , henger properties, hiper prop, home-exposure-marbella, home finders-network, homes in marbella, home care on the web, homes on the costa, horsten estates, ian coooper estates, ideal-country-property, i-homes, inmo avery, inmo finca, inmo golf pm, bolig-int, intrinsic property, invest in spain, rinkhoff, sym-estates, jr pin spain, julie flaxman estates, kc properties in spain, key estates property, kings castle marbella, kms spain, kuck real estate, , la cala blue, la cala sales and rentals, la heredia estates, la perlade la bahia, la brivas, dan danell, lex fiscal, maklarringen, livingstone-estates, los arcos, los arqueros estates, los flamingos-properties, lucas fox, lucia pou, lsp homes, magna-estates, manilva properties, marbedom, marbella andalucia, atlas marbella property, marbella banus, marbella choice, marbella-estates, marbella for less, marbella for sale, marbella hill view, marbella-hills-homes, marbella homes, maria property, marbella pads, marbella premier estates, marbella 24, marbella property box, marbella property solutions, marbella residence, marbella villas, marbella villas and penthouses, marbinmo, marco property services, imare nostrum, mendoza, metta-estates, mi casa spain, mibro international, mijas costa sales, mijas real estate, miraflores, mira vision, monte canela, mpa homes, newlife-marbella, nordic estates, nordica rentals, norwegian property investments, vb property services, orange state, osvald co, olg spain, pando apartments, palmyra properties, palomino properties, paraiso real estate, peninsula prop, personal property finder , plms spain, premier properties marbella, premier marbella, prestige-estates, eastgate group. private property, pro real estate, sc propertie spain, property-auctions-spain, property-center, property costa, property directors, property global investments, longterm rentals marbella, property overseas group, property point marbella property search spain, property-cds, propex spain, quality-homes, villa padierna estates, rainbow realty, rana-realty, remax eralia, realestate-marbella, , real-time-realty, rent in andalucia, rentals direct, residencia estates, rocas del mar, sabox, sea spain morocco, selected homes, septennium spain, sg estates marbella, sight overseas, sohail estates, sol-marbella, sol simple properties, sol villa spain, solo marb, solo casa inmobiliaria, soto mayor inmobiliaria, south spain properties, spanish abitat, spanish hot properties, spanord, spanserv, star la cala, start group, noll-sotogrande, susana developments, terra meridiana, experience group spain , the real estate agency, tip top investments, tms property services, todo-solucion, ultimate estates spain, unique x spain, unis properties, universal properties, va property, vp marbella, sun estates, vega property group, vps realty, very good estates, video-estates, vilicus, villa marbella now, villa marketing,  villanova spain, virtual realty, vision inmobiliaria, wasa, wissgar estates, crest group international, wwp, wow real estate, xcape to the sun, your dream home, your property in spain, your viva,Diana Morales, Panorama, nevada reality, klein and partner,Kristina Szekely,Infocasa , the Leading Property Agents of Spain, terramedian,,Inmolink,,Interagency Network,Property Options,,Estepona Living,Hiperprop,,Homefinders,Andalucía,Axarquia Properties,,pando apartments,Boliger Costa Del Sol,,expatriates,Michael Moon,,Bostad Costa Del Sol,,Alamo International,Palomino Properties,care4home,,Simply Andalucia,,enovaestates,Andalucian Estates,Costa del Sol Property Index,Garu,Elite Inmobiliaria,,Arriba Estates,,Orangestate Properties S.L,,donpiso,La Costa Property Solutions,villas in marbella, apartments in marbella for sale, villas marbella for sale,Casa Una,,Marbella Hills Homes S.L.,remax,,GRUPO VASARI,,SOL MARBELLA,LA CONCHA LIVING,,Alhambra Properties,Marbella24,always marbella,, norwegian real estate, elviria real estate,,marbella apartments, marbella villas, marbella property, marbella property for sale, marbella villas for sale, marbella apartments for sale, marbella, properties, fm estates,First Choice Spain