The Kunstmuseum Bern in Switzerland said Wednesday the 7th of May 2014 that it has been named the "unrestricted and unfettered sole heir" of a German art collector.The Kunstmuseum Bern, in the Swiss capital, said it was "surprised and delighted" by the bequest., saying it was informed by Cornelius Gurlitt's lawyer.Cornelius Gurlitt died  May 2014.
 The works will officially remain the property of the Kunstmuseum Bern but will be placed on permanent loans to the various German museums. It is reported that a mandatory exhibition of all works from the Gurlitt collection be mounted in Germany as soon as possible.
A second stash of artworks has been found at a property owned by reclusive German pensioner Cornelius Gurlitt.Paintings found at the Austrian home of art collector Cornelius Gurlitt are even more significant than those found at his Munich flat, his lawyer Hannes Hartung says.
The new items were found at a cottage owned by 81-year-old Mr Gurlitt in Salzburg, Austria. His spokesman said there was no evidence that the Salzburg pieces.
238 more pictures that were hidden in Gurlitt's Salzburg house and comprise mainly impressionist masterpieces.
According to a press release from Gurlitt's lawyers, the newly discovered find includes oil paintings and watercolours by Monet, Corot, Renoir, Courbet, Pissaro, Gauguin, Toulouse-Lautrec, Liebermann, Cézanne and Nolde, as well as drawings by Pablo Picasso and Edvard Munch and silver vessels, woodcuts, ceramic bowls and bronze, marble and works in iron by Auguste Rodin— also a wonderful bridge picture by Monet and a sailing boat sea scape by Manet.. It is evidently the more valuable part of the collection
_____________________________________________________________
After the war, allied troops designated Hildebrand Gurlitt, who had been a museum director in Zwickau, a victim of Nazi crimes. He reportedly said he had helped many Jewish Germans to fund their flight into exile, and that his entire art collection had been destroyed in the bombing of Dresden.
Now its proven that the art dealer whose son was found to have hoarded a treasure trove of masterpieces in his Munich flat paid the Nazis just 4,000 Swiss francs for 200 paintings.Hildebrand Gurlitt was sold the collection  by Joseph Goebbels, Hitler's propaganda minister, in May 1940, according to a purchase contract published by a German newspaper."That was exactly 20 Swiss francs for each work which today are worth hundreds of thousands or millions – including Chagall's The Walk, Picasso's Farming Family and Hamburg Harbour by Nolde," Bild am Sonntag said.
Mr Gurlitt Snr acquired a further 115 works from Goebbels' ministry in 1941.
His son  79 years old Cornelius Gurlitt (above photo) , who had not previously been know by the German police, attracted the attention of the customs authorities only after a random cash check during a train journey from Switzerland to Munich in 2010, according to German magazine Focus. Further police investigations led to a raid on Gurlitt's flat in Schwabing in spring 2011. Police discovered a vast collection of 1406 masterpieces by some of the world's greatest artists.The 11th  of November its revealed Cornelius Gurlitt own 2 apartments in the same building.
The 121 framed and 1,285 unframed works found in one room at the apartment were "professionally stored and in a very good condition," said Siegfried Kloeble, head of the customs investigations office in Munich. He said it took a specialist company three days to remove the paintings.
Police the 11th of November  collected 22 paintings from Cornelius Gurlitt's brother in law yesterday, Bild am Sonntag reported. Two policemen took the paintings from the apartment of Nikolaus Fraessle in Kornwestheim near Stuttgart, Germany. Fraessle had contacted the police and asked them to collect the paintings, that he said have a relation with the pieces of art found in Gurlitt's apartment, Bild am Sonntag said.
In a written statement, the government said as many as 590 works of art could have been stolen by the Nazis. In a surprise move, it quickly featured some 25 of those works on the website lostart.de and said it would be regularly updated.
The task force will consist of at least six provenance experts, as well as representatives from various ministries, the statement said.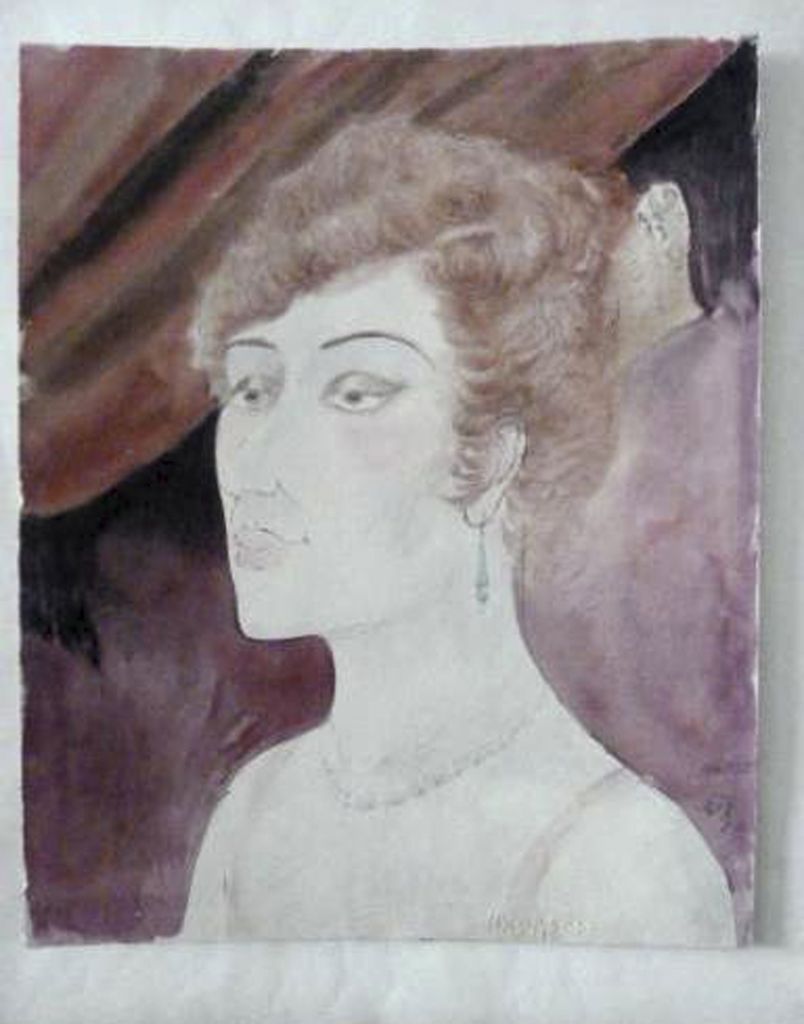 Photo of Otto Dix's "The Woman in the Theater Box" (photo credit: AP/Staatsanwaltschaft Augsburg)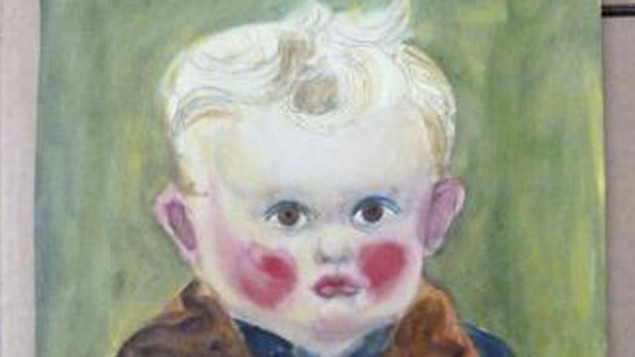 Close-up of a photo provided by the Augsburg prosecution showing Otto Griebel's 'Kind am Tisch' (Child at a table), which was among the more than 1,400 works of art seized by German authorities in a Munich apartment in February 2012. (photo credit: AP/Staatsanwaltschaft Augsburg)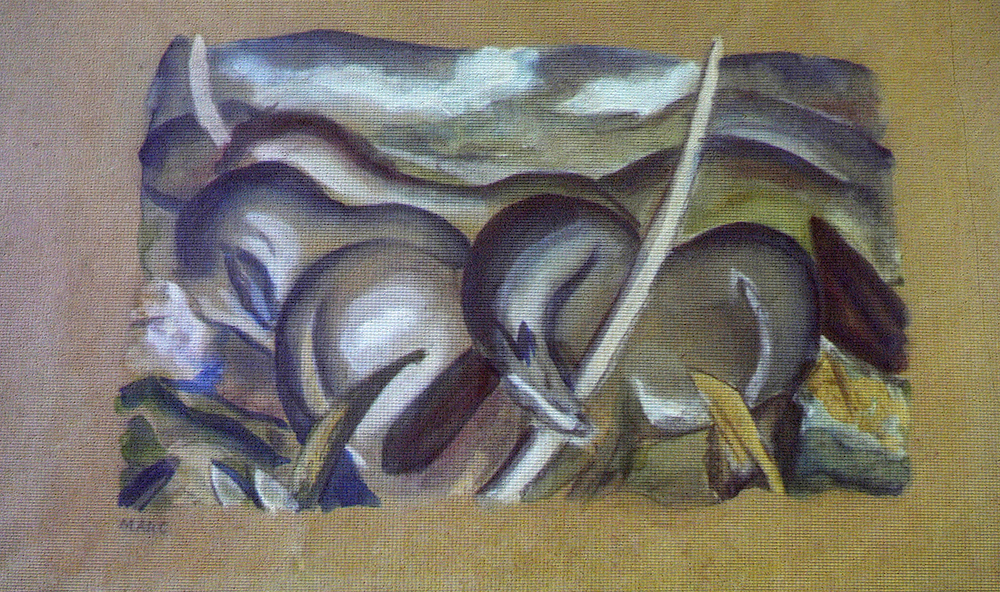 Landscape with horse by Franz Marc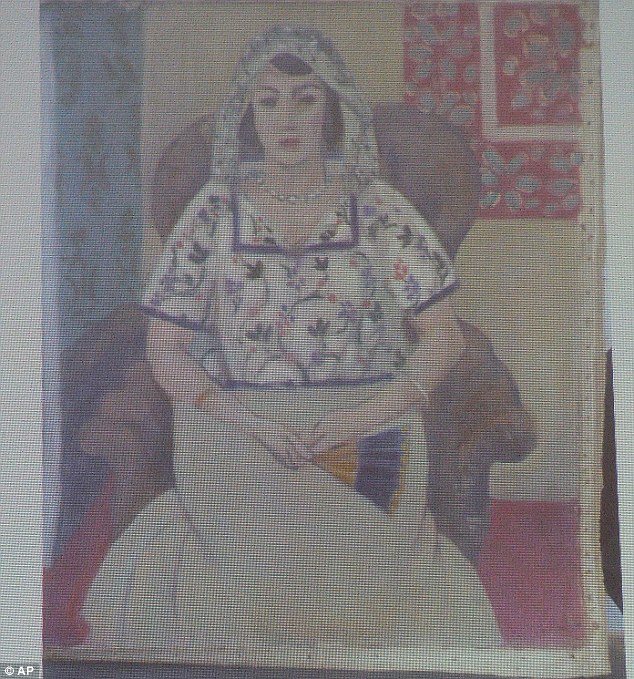 Above Henry Matisse painting  called "Sitzende Frau-Sitting woman"  It is worth an estimated €70million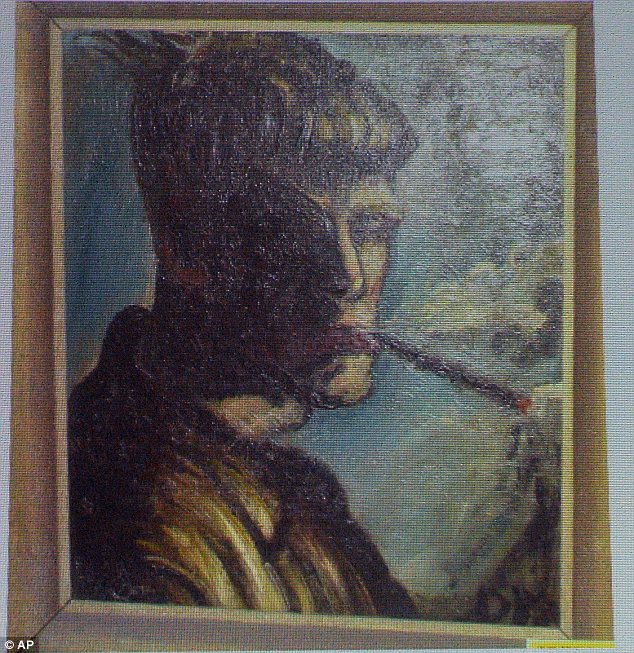 Otto Dix called Selbstportrait Rauchend (Selfportrait Smoking)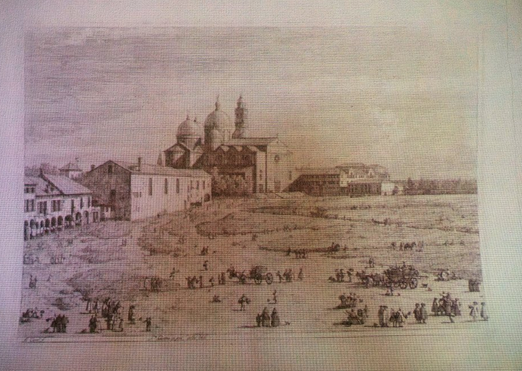 Black and white drawing by Antonio Canaletto (Giovanni Antonio Canal).Value about €3million
Village Girl from French painter by Gustav Courbet.  Ludwig Kirchner  'Melancholic Girl'.(Right)
Specialist estimates from the National Archives' Greg Bradsher, who for a long time was their Holocaust expert. estimate about 20% of the European Art, was stolen or bought at low prices from Jewish people during the Nazi regime. "I think it's the biggest single find of Holocaust pictures that there's been for years, but it's still a tiny fraction of the total number of pictures that we're looking for," Julian Radcliffe, chairman of the London-based Art Loss Register, which runs an international database of stolen and missing works, told AFP.
So that would be how several hundreds of these paintings got into this trove of close to 1,500. The rest of the paintings apparently were sold under duress by fleeing Jewish families who had big art collections and didn't have very much time to sell them. Under many art-restitution laws, like the laws in German & Austria, selling under duress for lower prices no longer gives the buyer the right to legal ownership.
A Swiss gallery, Kornfeld, said it had made its last purchase from Cornelius in 1990, when it bought works on paper that were part of the Nazis' collection of "degenerate art" displayed in 1937 and bought by Gurlitt's father the following year.
"It is important to make a clear distinction between works that were looted and those seized by the National Socialists as 'degenerate art' which can be bought freely to this day," it said.
Hildebrand Gurlitt, a German connoisseur of art, lost his job running a museum and had to watch as the Nazis derided much of Germany's most avant-garde art as "degenerate". But somehow he managed to become one of the few dealers chosen by Joseph Goebbels, Adolf Hitler's propaganda boss, to sell much of the art that the Nazis confiscated. The canvasses, lithographs and prints that Mr Gurlitt got his hands on (but did not sell) read like the syllabus for a course in the history of art:
Marc Chagall,Pablo Picasso, Henri Matisse, Paul Klee, Oskar Kokoschka,Canaletto, Courbet  and Toulouse-Lautrec. Pierre-Auguste Renoir, Oskar Kokoschka, and leading German artists Otto Dix, Max Liebermann, Ernst Ludwig Kirchner  Max Beckmann, Franz Marc, Emil Nolde.At least one older work was in the trove: a 16th-century engraving of the Crucifixion by Albrecht Duerer.
The Conference on Jewish Material Claims Against Germany called for the works to be made public immediately so families of Holocaust victims could locate and recover art that had been taken from them. The conference also said that art for which heirs could not be found "must not remain with Cornelius Gurlitt, the son of a Nazi-affiliated art dealer who profited from art confiscated from Holocaust victims or sold under duress."
It said any unclaimed art should be auctioned and the money used for assistance to Holocaust survivors or Holocaust education. Nemetz defended the delay in making the find public and rejected calls to make images immediately available on the Internet to help potential owners, citing copyright and security concerns.
Art historian Meike Hoffmann, an expert on "degenerate art" at the Free University of Berlin, offered a glimpse of some of the works during a slide show at the same news conference. She showed works she said had not been known to scholars, or known only from documents without any photos to give an idea what the works looked like.
"Such cases are of high importance to art historians," she explained. One Matisse painting of a woman, seized by the Nazis in France during World War II, is not in the established catalog of his works, she noted. A Chagall gouache of an allegorical scene also isn't among the artist's listed works. Experts haven't yet been able to determine where the Chagall came from, she said.
Other works, such as an unknown self-portrait by 20th-century German artist Otto Dix or a woodcut by Ernst Ludwig Kirchner, added new breadth to what's known about the artists, Hoffmann added. Some were known works that appeared to have been legally sold, although their recent whereabouts may have been unknown. For instance, a previously listed work by Courbet of a girl with a goat made its way into the collection through an auction in 1949 — years after the end of World War II. A Franz Marc work, "Landscape with Horses," was identified as coming from an art museum in Moritzburg, Germany.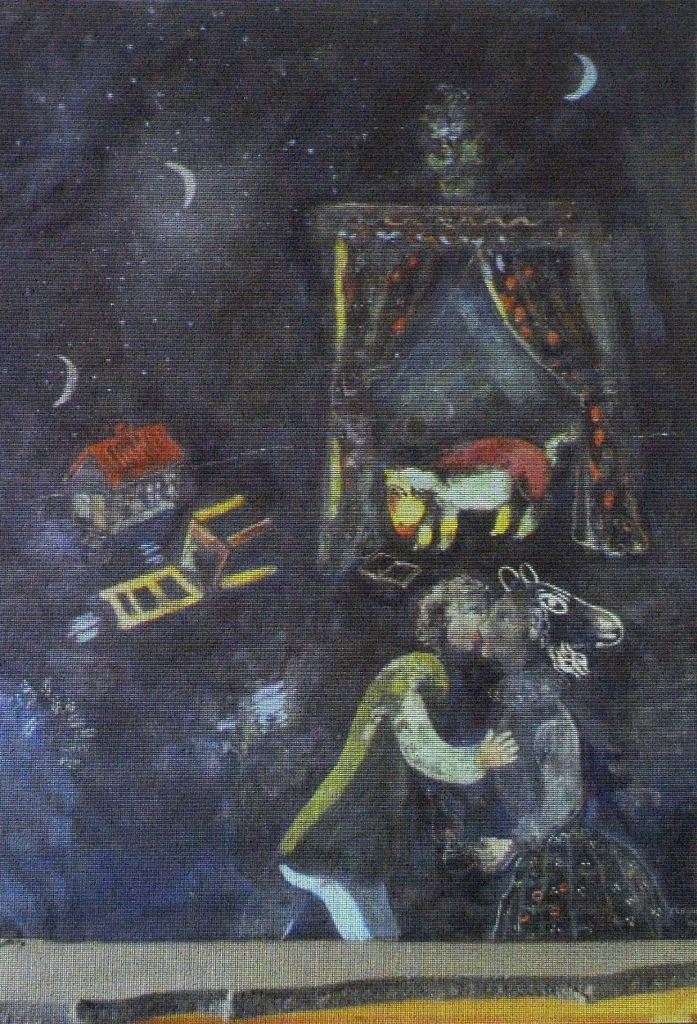 "Untitled"  Marc Chagall Painting.An allegorical scene painting by Marc Chagall worth an estimated €20million had never been seen by the art world before emerging from Gurlitt's collection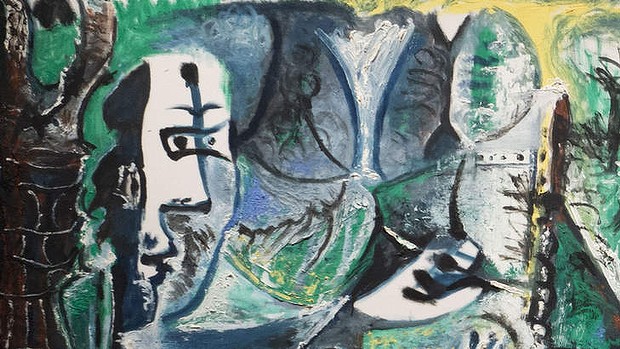 A "Untitled" Pablo Picasso painting,  value at least €5million
The works are now stored in a customs warehouse  in Garching outside Munich.200 of the art works are already on a list of missing Jewish art and have International warrants.
Reinhard Nemetz of the public prosecutor's office in Augsburg said there were no plans to publish a list of the works online.
Instead, he said the authorities would welcome it if people who suspected the trove may contain paintings that rightfully belonged to their ancestors came forward.
Focus magazine reports that investigators found a bank book owned by Cornelius Gurlitt with half a million euros, from the sale of some artworks.
Gurlitt faces jail for tax evasion and money laundering.
"The government has been aware of the case for several months," Chancellor Angela Merkel's spokesman Steffen Seibert said in Berlin.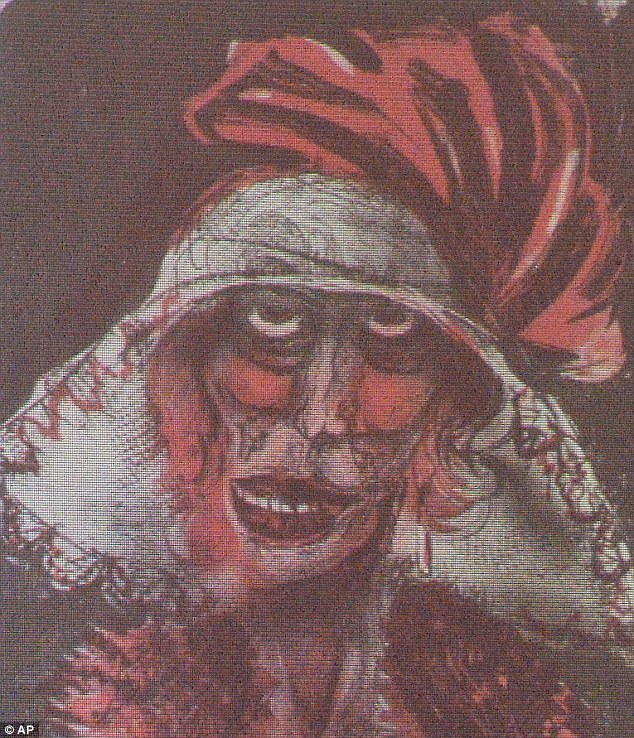 Painting by Otto Dix estimated value at €5million
"We don't know how many of the 1400 works are 'degenerate' works or looted by the Nazis," said Christoph Zuschlag, an expert on "degenerate art" at the University of Koblenz. "So we need to examine each piece individually."
He cautioned against overestimating the value of the collection before it had been thoroughly assessed.
"We need to see whether these were originals or prints,"  He noted that of the 21,000 pieces of "degenerate art" seized from German museums in or shortly after 1937, two-thirds were prints while only one-third were originals.
Investigators put the value of the works at about one billion euros (£846m; $1.35bn), Focus said.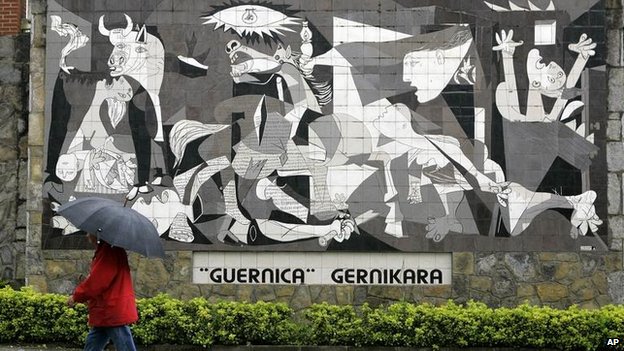 The US Holocaust Memorial Museum estimates the Nazis seized about 16,000 works of art in all.
The authorities kept secret their discovery for 20 months, and are refusing to publish details of the works.
Officials also admitted they have not questioned Gurlitt, have no idea where he is and have no plans to issue an arrest warrant.
Ruediger Mahlo, of the pressure group Conference on Jewish Material Claims against Germany, accused the authorities of 'what amounts morally to the concealing of stolen goods'.
For some families missing art is the last personal effects of relatives murdered in the Holocaust.
Anne Webber, of the Commission for Looted Art in Europe, said the response of the German authorities was 'troubling'. She said: 'A list of these paintings must be published. There are hundreds of families around the world urgently wanting to know if any of the works belong to them.'
Reinhard Nemetz, head of the prosecutors' office in Augsburg, said the works,had been seized in March 2012.
Asked why the discovery had been kept secret for so long, he said: 'It is for us counterproductive to go public with such a case. The investigations are costly, complex and lengthy.'
The astonishing find in a Munich flat of 1,500 paintings missing since 1939 points to two art crimes.
The first is Adolf Hitler's crusade to fill his Fuehrermuseum at Linz, Austria, with the supreme paintings of the world – looted, confiscated and purchased by the Nazis in the occupied countries of France, the Netherlands, Belgium, Austria, Czechoslovakia, Poland and Russia.
The second is the crime of covering up the truth ever since.
Hildebrand, one of four senior Modern Art dealers in Germany who were appointed in March 1938 to the Nazis' Confiscation Committee – with orders from Hitler and Herrmann Goering to sell "degenerate art" (entartete Kunst) for foreign currency.
Hildebrand Gurlitt, Karl Buchholz, Ferdinand Moeller and Bernhard Boehmer set up shop in Schloss Niederschonhausen, just outside Berlin, to sell the near-16,000 cache of paintings and sculptures which Hitler and Goering removed from the walls of German museums in 1937-38.
They were first put on display in the Haus der Kunst in Munich on 19 July 1937, with the Nazi leaders inviting public mockery by two million visitors.
Propagandist Joseph Goebbels in a radio broadcast called Germany's degenerate artists "garbage".
Hitler opened the Haus der Kunst exhibition with a speech, at the end of which saliva fell out of his mouth in rage. In it he described German art as suffering "a great and fatal illness".
Hildebrand Gurlitt and his colleagues did not have much success with their sales, mainly because art labelled "rubbish" had small appeal.
So on 20 March 1939 they set fire to 1,004 paintings and sculptures and 3,825 watercolours, drawings and prints in the courtyard of the Berlin Fire Department.
The propaganda act raised the attention they hoped. The Basel Museum in Switzerland arrived with 50,000 Swiss francs to spend. Shocked art lovers came to buy.
What is unknown after these sales is how many paintings were kept by Gurlitt, Buchholz, Moeller and Boehmer and sold by them to Switzerland and America – ships crossed the Atlantic from Lisbon – for personal gain.
Shady business
Gurlitt was arrested by the Allies near Bamberg in 1945, hiding in the castle of Baron von Pollnitz. He turned down an offer from the baron to hide his art collection in a new secret place. Or so he let a writer know.
What we now know is that he did successfully hide more than 1,000 paintings – or his teenage son did.
It is possible they were cached in France. Gurlitt's chief job on the Confiscation Committee was to work in Paris during the war, where he lived from 1941 to 1945 in the Hotel de Jersey.
He had two ways of collecting for Hitler's Fuehrermuseum. One was to visit abandoned Jewish homes and remove their artworks; his licence was a Nazi law declaring that French nationals who had fled had lost French citizenship.
The other was to spend Reichsmarks at the Drouot auction house in Paris, where distress sales were big business.
Gurlitt was no small buyer. He paid more than one million French francs for the four most expensive paintings in the highest-value Paris sale of the war – the Georges Viau Impressionists auctioned by Etienne Ader between 11 and 14 December 1942, which fetched £922,000 in wartime values.
The sale's top price of 5m francs was paid by Gurlitt for Cezanne's Vallee de l'Arc et Mont Sainte Victoire. It demonstrated Nazi purchasing power. Unfortunately the tiny painting, for which Gurlitt gave 94 times the then record for a Cezanne, proved to be a fake.
French connection?
So what was stored in his son's Munich flat? It is highly likely that pictures acquired in France are foremost and it is French families who will emerge to make claims for them.
But there must also be German museum confiscations of Picasso and Matisse and paintings taken from Jewish owners in both Germany and Austria.
Gurlitt would have intimately known their value. The top price for Matisse reached £2,600 at auction in 1941, that for Picasso was £880 (paid for a Blue Period Blind Man by the Toledo Museum in Ohio). Gurlitt did not set fire to these nor hand them over. He kept them for himself.
Art is the last unfinished business of World War Two. Though the Allies uncovered large numbers of stolen paintings in 1945 in the Alt Aussee salt mines near Salzburg, and in a castle south of Munich, an unknown number have been lost forever. Russia holds more than 120,000 wartime art objects in three museums round Moscow.
In many cases, the quality of vanished art was the highest. An important Raphael – Portrait of A Young Man – taken from Catholic owners in Poland heads a list of missing art which amounts to a small National Gallery: paintings by Rubens, Van Dyck and Rembrandt to the fore.
Five years ago Austria revealed the existence of more than 10,000 paintings and sculptures, hidden since 1945 in monasteries along the Danube and in state institutions.
Their Jewish owners had not been traced; how hard the Austrian government had tried to trace them was not made clear.
An Austrian list exists on the internet for descendants of the original owners to come forward – if, that is, they can prove the ownership of Jews in concentration camps, or who fled in panic without documents or photographs as Nazi forces approached.
London dealers close to the "restitution" business predict that 100 to 150 paintings will come off the walls of German museums in the next 25 years and be restored to the families of their original owners.
As paintings washed around Europe in the 1950s without clear ownership, German museums whose collections of the 20th Century had been wiped out by Hitler bought what they could, at cheap prices, without asking too many questions.
The past now catches up with the present. Lawyers in Vienna and Berlin now offer "no win no fee" deals to the descendants of concentration camp victims.
The Nazis and their art collecting will continue to make headlines.
German lawyer Peter Raue, have the 7th of November 2013 suggested that  Cornelius Gurlitt, should go unpunished, if he agree to give the art to the German Government.It could take Meike Hoffmann the one person up to 20 years to estimate the 1406 paintings, if each painting took 5 days to evaluate.And this would speed up the process he says.Prominent lawyer and art patron Peter Raue, who works closely with museums in Berlin, said Germany must do its part for transparency as many families of Jews stripped of their assets under the Nazis believe their works may be among those found.
"It would be more sensible to post the paintings on the Internet, why not with the [London-based] Lost Art Register?" he told the daily Tagesspiegel.
Meike Hoffmann has already traced one painting by Henri Matisse to the collection of renowned French art dealer Paul Rosenberg.
Dr Michael Hulton claims the painting The Lion Tamer by Max Beckmann, which Gurlitt tried to sell for £750,000 before the collection was discovered, belonged to his great-uncle Alfred Fleichtheim.Art dealers did not find it suspect that Gurlitt sold art, as he is from a famous art collector family.
"The legal situation as far as I can tell is that Gurlitt is the rightful owner of a large share of the work in question – even if that is questionable from a moral and ethical point of view," said Uwe Hartmann, head of the government agency charged with researching the provenance of art in public collections.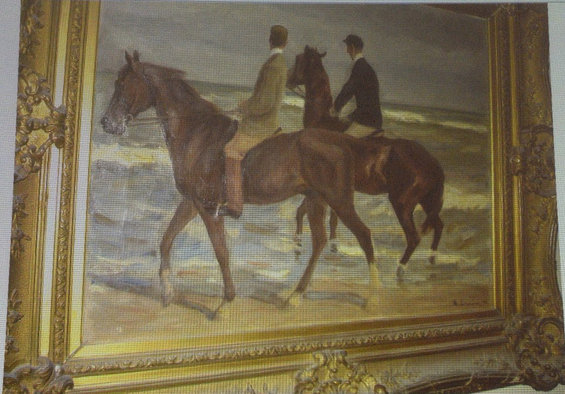 'Two Riders on the Beach' by German painter  Max Liebermann.
NY based David Toren also want to know, his lawyer in Germany is Jörg Rosbach.
Mr. Toren last remembers seeing Max Liebermann's "Riders on the Beach," already known to be among this 1,400-work hoard, on the wall of his great-uncle's villa in Breslau, then part of Germany. Mr. Toren was 13 and the war that would soon engulf the continent was less than a year away.
But Germany, already under fire for keeping the hoard secret for nearly a year, could face further criticism if it allows Gurlitt to keep the paintings, sketches and sculptures.
Legal experts and those familiar with the question of looted art said Germany could nullify his ownership by citing the principle of "adverse possession" or under the 1998 Washington Declaration, a set of principles for dealing with looted art.
Michael Naumann, who as German culture minister in 1998 signed the Washington Declaration, said it would be absurd to let Gurlitt keep art work which could have been looted or extorted from Jews as they fled the Holocaust.
"The man made his living by selling the artwork," Naumann told Reuters. "Most of it was stolen or acquired under most dubious circumstances. He apparently never paid taxes. The state has every means to assess the value of this and take it in its possession because he behaved criminally."