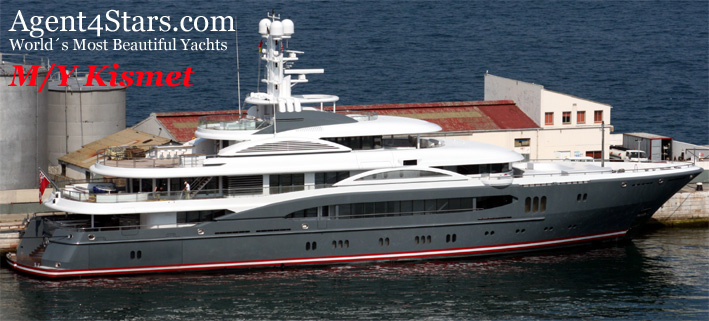 M/Y Kismet | ex. Falcon | 2007 | 68m-223ft | Luerssen  Sales Price:  €95 Mill.- £83 Mill. – $133 Mill. (original asking price) Guests: 12  | Crew: 22  | Top: 16.0 Knots | Cruise: 14.0 Knots | Gross Tonnage: 1,796 | IMO: 1008700 Exterior Designer: Reymond Langton Design Ltd.  | Interior Designer:Reymond Langton Design Ltd.   | Naval Architect: Espen Oeino
Billionaire Shahid Khan sells award winning 68 meter Super yacht Kismet,a new 94 meter Kismet II is ready for 2014.Build by German Ship yard Luerrsen,  Lürssen Naval architecture: Espen Øino Interior design: Reymond Langton.It was build as project Global.
One of the world´s most beautiful super yacht have in November  2013 changed owner.The Super Yacht was owned  by  Jaguars owner Shahid Khan.
Underneath some photos from the Monaco Yacht show 2008
Kismet is  number 2 from the left
The Kismet — which means fate or destiny — has a beam of 42 feet, a gleaming gray-painted steel hull with a white aluminum superstructure. There's a red and white strip near water level.
A winner at the 2008 World Superyacht Awards, her Reymond Langton Art Deco interior features a saloon with a cinema lounge and grand piano along with a formal dining room seating up to 18 guests.Kismet was asking €79 million, but the original asking price was €95million.
Our guess is the final sales price was another €5-10million less than the reduced asking price, €69-74million.ITs quite likely that a new Kismet II is is near completion, as the owner Shahid Khan is a relatively young Billionaire.
The deal was brokered by Moran Yachts, the yacht broker  is very strong  in the US marked.
Khan in 2012 Born July 18, 1952 (age 61) Lahore, Punjab, Pakistan Nationality Pakistani American Other names Shad Khan Citizenship United States Education Industrial Engineering (B.S.) Alma mater University of Illinois Occupation Owner of the Jacksonville Jaguars in the NFL; Fulham F.C.in the Premier League; Flex-N-Gate owner Religion Islam Spouse(s) Ann Khan Children Tony Khan, Shanna Khan
On November 29, 2011, Khan agreed to purchase the Jacksonville Jaguars from Wayne Weaver and his ownership group subject to NFL approval.Weaver announced his sale of the team to Khan later that same day. The terms of the deal were not immediately disclosed, other than a verbal commitment to keep the team in Jacksonville, Florida. The sale was finalized on January 4, 2012.The purchase price for 100% share in the Jaguars was estimated to have been $760 million. The NFL owners unanimously approved the purchase on December 14, 2011.The sale made Khan the first member of an ethnic minority ever to own an NFL team.
http://www.youtube.com/watch?v=D6mklQ8JUfQ
A video of  Tony Khan who was named Senior Vice President, Football Technology & Analytics for the Jaguars in July of 2012.
In July 2013 Khan negotiated the purchase of the London soccer club Fulham of the Premier League from its previous owner, Mohamed Al Fayed. The deal was finalized on July 12, 2013 with the amount estimated between £150–200 million.An official purchase price for the club was not announced with Khan stating that it was "highly confidential"
Best Regards