Vincent Van Gogh
recent sale
Vincent van Gogh's 'The Allee of Alyscamps' sold for $66.3 million at Sotheby's in New York on Tuesday the 5th of May 2015. The work surpassed its $40 million estimate and now represents the artist's third-highest price at auction. PHOTO: SOTHEBY'S
Several  paintings by Van Gogh are for sale.Please contact me if you wish to buy or sell a Van Gogh.
Im in contact with owners of Vincent van Gogh paintings  direct , i am also in contact with Lawyers and legal mandates of Vincent van Gogh paintings.
Two indispensable catalogues for research purpose exist on  Vang Gogh:
The Works of Vincent van Gogh by Jacob-Baart de la Faille (first published in 1928, revised edition published in 1970). The catalogue numbers are preceded by an F.
The Complete van Gogh by Jan Hulsker, published in 1980. The catalogue numbers are preceded by JH.
[gravityform id="1″ name="Contact Form"]
Most expensive Van Gogh paintings to date
1) Portrait of Dr. Gachet (June 1890) – US$138.4 million (Was $82.5 mil)
Vincent van Gogh painted this piece of his work during the last weeks of his life before his suicide. There are two versions of the portrait. Both painted in the same year.
One of the version was sold in May 1990, through an auction at Christie's, New York, put up by the Siegfried Kramarsky family. The buyer was a Japanese businessman Ryoei Saito.
Since Ryoei Saito's death in 1996 Reports in 2007 have claimed the painting was sold a decade earlier to the Austrian-born investment fund manager, in turn, had reportedly been forced by financial reversals to sell the painting to parties as yet unknown.
The second version of the portrait is currently in the possession of the Musée d'Orsay, Paris, France.
2) Irises 1889 – US$101.2 million (Was $53.9 mil)
Van Gogh's passion of painting flowers, has made this highly priced irises paintings sold at US$101.2 million. This brilliant artwork was painted while Vincent van Gogh was living at the asylum at Saint Paul-de-Mausole in Saint-Rémy-de-Provence, France in the last year before his death in 1890.
In 1987, put up in an auction (Sotheby's, New York ). Sold by the son of Joan Whitney Payson to an Australian businessman, Alan Bond. Interestingly, buyer did not have enough money to pay for the bidden price. Eventually, the pieces was re-sold to J. Paul Getty Museum in Los Angeles in 1990.
It is noticeably that the painting style used wasn't as hash as the famous Starry Night.Back then, before inflicted by mental derangement, Van Gogh felt that he could keep himself from going insane by continuing to paint.
3) Portrait of Joseph Roulin 1889 – US$$100.9 ++ million (Was $58 mil plus exchange of works)
Sold by in a private sales via a Swiss art dealer and collector, Thomas Ammann, to the Museum of Modern Art new York.
Joseph Roulin was described as the typical bread-winner in the household, during the period of working class in 19th century France. Working as a postman toiling for money to make ends meet. A father of three children, and a husband of a housewife, who care for home and children.
Van Gogh did different versions of this portrait. In fact, he told his brother Theo in a letter: "I have made portraits of a whole family, that of the postman whose head I had done previously – the man, his wife, the baby, the young boy, and the son of sixteen, all of them real characters and very French, though they look like Russians. "
4) Portrait de l'artiste sans barbe 1889 – U$94.5 million (Was $71.5 mil)
Sold by the family of Jacques Koerfer, in late 1998, at an auction held in Christie's, New York. Buyer remain anonymous till these days.
A self-portrait of artist without a beard. Leading fourth in the list of most expensive paintings. Among many with bearded portrait, this work is exceptionally unique and rare; clean-shaven, crispy-looking, hair gel and back-combing, self-portrait of Vincent van Gogh.
5) Self-portrait with bandaged ear 1889 – US$90 million (Was 71.5 mil)
This paintings sold in late 1998, at an auction in Chrisie's, New York. Buyer remain suspected to be anonymous. Recently, reported by Forbes.com on 10th March, Phlip Niarchos "Eldest son of late Greek shipping magnate, Stavros Niarchos, inherited father's art collection of such masterpieces as Vincent van Gogh's "Self-Portrait with a Bandaged Ear""
Again, another unique piece of Van Gogh's paintings, with bandaged ear. Do you know that he actually presented his lower chopped-off part of his ear to a prostitute at his favorite brothel?
6) A Wheatfield with Cypresses 1889 – U$85.7 million (Was $57 mil)
Sold by son of Emil Georg Bührle in a private sale via Steven Mazoh. Buyer was Walter Annenberg, a Jewish-born American publisher, diplomat, and a philanthropist.
Van Gogh painted this while he spend his life in a mental asylum at St. Remy in May 1889. In his written letter to Theo, "...the wheat field in the sun, which represents the extreme heat... ", describing one of his best sun-drenched landscape in summer canvases.
There are 2 variants of this paintings, the other owned by National Gallery, London.
7) Vase with Fifteen Sunflowers 1888 – U$76.7 million (Was $39.7 mil)
Yet another related paintings on flowers. Van Gogh's sunflower paintings was auctioned in 1987, an event held at Christie's London organized by the daughter in law of Chester Beatty. Buyer was described as a Japanese insurance magnate, by the name of Yasuo Goto. Little was known about the intention of this purchased. Neither was a self-interest in a private sales, nor buying it on the behalf of the company. The painting currently resides at Seiji Togo Yasuda Memorial Museum of Modern Art in Tokyo. After the purchase a controversy arose whether this is a genuine van Gogh or an Emile Schuffenecker forgery.
8.) Peasant Woman Against a Background of Wheat 1890 – U$64.1 million (Was $47.5 mil)
Sold to Stephen Wynn, an American casino resort/real-estate developer. An unknown seller held a private sale via Acquavella Galleries Inc., New York.
Stephen Wynn has owned an extensive art collection, including Paul Gauguin and Pablo Picasso.
Still Life, Vase with Daisies and Poppies, 1890 floral masterpiece by Vincent van Gogh, painted in the closing stages of his life, has sold in New York for $61.8m (£38.7m). Nov 2014
News
The North Brabant Museum (Het Noordbrabants Museum)  will open its final and largest gallery 850 square metres in size to visitors on 18 January 2014 after major refurbishment. This will complete the renovation of the Noordbrabants Museum. To mark the event, 11 paintings by Vincent van Vogh (1853 – 1890), the greatest artist to have come from Brabant have been brought together, including an early Paris self-portrait from the Van Gogh Museum's collection. This is the most comprehensive presentation of original works that has been dedicated to Van Gogh in Brabant up to now.
Carlos Slim´s Museo Soumaya borrows The North Brabant Museum the 2 following art works for 6 months.
"The Story of Brabant" in Het Noordbrabants Museum opens with eleven paintings by Vincent van Gogh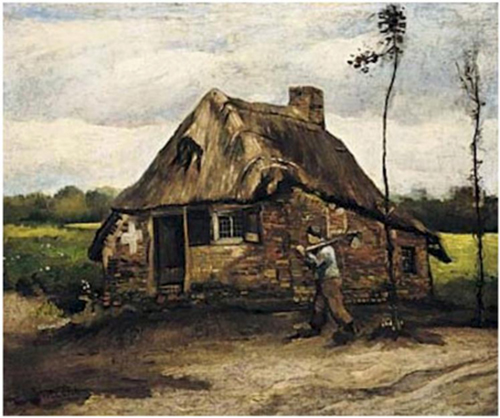 Cottage with peasant, Vincent van Gogh, 1885
Oil on canvas, 65.5 x 78.5 cm
Loan from the Museo Soumaya Fundación Carlos Slim, Mexico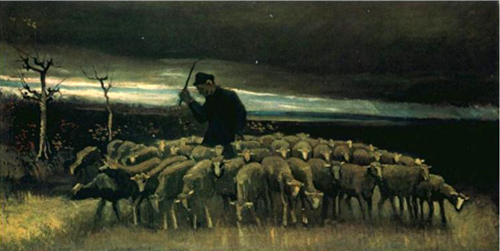 Shepherd, Vincent van Gogh, 1884
Oil on canvas, 67 x 126 cm
Loan from Museo Soumaya Fundación Carlos Slim, Mexico
Ask me about the Van Gogh Paintings / Art works for sale right now.Also should you wish to sell a Van Gogh, i would be happy to help.
Several  paintings by Van Gogh are for sale.Please contact me if you wish to buy or sell a Van Gogh.
Im in contact with owners of Vincent van Gogh paintings  direct , i am also in contact with Lawyers and legal mandates of Vincent van Gogh paintings.
[gravityform id="1″ name="Contact Form"]
Best Regards
List of works by Vincent van Gogh
From Wikipedia, the free encyclopedia
List of works by Vincent van Gogh is an incomplete list of paintings and other works by the Dutch artist Vincent van Gogh (1853–1890).
Little appreciated during his lifetime, his fame grew in the years after his death. According to the legend van Gogh sold only one painting, The Red Vineyard, bought for 400 Francs by the painter and art collector Anna Boch. Today, he is widely regarded as one of history's greatest painters and an important contributor to the foundations of modern art. Van Gogh did not begin painting until his late twenties, and most of his best-known works were produced during his final two years. He produced more than 2,000 artworks, consisting of around 900 paintings and 1,100 drawings and sketches. In 2013 Sunset at Montmajour became the first full-sized Van Gogh painting to be newly confirmed since 1928.[1][2]
Today, many of his pieces—including his numerous self portraits, landscapes, portraits and sunflowers—are among the world's most recognizable and expensive works of art. On March 30, 1987, Irises was sold for a record US$53.9 million at Sotheby's; on May 15, 1990, hisPortrait of Dr. Gachet was sold for US$82.5 million at Christie's, establishing a new price record until exceeded in 2004 by a Picasso painting.
The Van Gogh Museum in Amsterdam is dedicated to Van Gogh's work and that of his contemporaries. The Kröller-Müller Museum in Otterlo(also in the Netherlands), has another considerable collection of his paintings.[3]
The listing is ordered by year and then by catalogue number. All works listed here are oil on canvas unless otherwise indicated.
| Image | Name | Year | Location |
| --- | --- | --- | --- |
| | Still Life with Cabbage and Clogs | 1881 | Van Gogh Museum, Amsterdam (F1) |
| | Crouching Boy with Sickle, Black chalk and watercolor | 1881 | Kröller-Müller Museum, Otterlo, Netherlands (F851) |
| | Old Man at the Fireside, Black chalk, reddish brown and grey wash, orange red chalk, opaque watercolor on laid paper | 1881 | Kröller-Müller Museum, Otterlo, Netherlands |
| | Woman Sewing, Watercolor | 1881-82 | P. and N. de Boer Foundation, Amsterdam (F869) |
| | Woman with White Shawl | 1882 | Teheran, Collection A. Farmanformaian (F949) |
| | Beach at Scheveningen in Calm Weather, oil on paper on wood | 1882 | Private collection (F2) |
| | Dunes | 1882 | Private collection (F2a) |
| | Dunes with Figures | 1882 | Private Collection (F3) |
| | Beach at Scheveningen in Stormy Weather | 1882 | Van Gogh Museum, Amsterdam (F4) |
| | Fisherman on the Beach | 1882 | Kröller-Müller Museum, Otterlo (F5) |
| | Fisherman's Wife on the Beach | 1882 | Kröller-Müller Museum, Otterlo (F6) |
| | Women Mending Nets in the Dunes | 1882 | Collection: François Odermatt, Montreal (F7) |
| | Annotated by the artist in ink at lower left: "At Eternity's gate" lithograph, | 1882 | Tehran Museum of Contemporary Art (F1662) |
| | Girl in White in the Woods | 1882 | Kröller-Müller Museum, Otterlo, Netherlands (F8) |
| | Girl in the Woods | 1882 | Private collection (F8a) |
| | Man Stooping with Stick or Spade | 1882 | Kuboso Memorial Museum of Arts, Izumi, Japan (F12) |
| | A Girl in the Street, Two Coaches in the Background | 1882 | Private collection (F13) |
| | Edge of a Wood | 1882 | Kröller-Müller Museum, Otterlo, Netherlands (F192) |
| | Cluster of Old Houses with the New Church in The Hague | 1882 | Private collection (F204) |
| | The Iron Mill in The Hague, watercolor | 1882 | Private collection (F926) |
| | Meadows near Rijswijk, watercolor | 1882 | Private collection (F927) |
| | Sorrow, drawing | 1882 | Garman Ryan Collection (F929a) |
| | Back Garden of Sien's Mother's House, the Hague, drawing | 1882 | Norton Simon Museum, Pasadena, California (F942) |
| | Rooftops, View from the Atelier, watercolor with white | 1882 | Private collection (F943) |
| | Bleaching Ground at Scheveningen also Bleaching Ground, watercolor | 1882 | J. Paul Getty Museum, Los Angeles (F946r) |
| | Pollard Willow, watercolor | 1882 | Van Gogh Museum in Amsterdam, Netherlands. (F947) |
| | Portrait of a Man in a Top Hat also Orphan Man with Top Hat, drawing | 1882 | Worcester Art Museum, Worcester, Massachusetts (F954) |
| | In Church also Church Pew with Worshippers, watercolor | 1882 | Kröller-Müller Museum, Otterlo, Netherlands (F967) |
| | The State Lottery also The Poor and Money | 1882 | Van Gogh Museum, Amsterdam (F970) |
| | Portrait of Jozef Blok also The Bookseller Blok, watercolor | 1882 | Van Gogh Museum, Amsterdam (F993) |
| | Sien Nursing Baby, watercolor and chalk | 1882 | Private collection (F1068) |
| | The Potato Market, watercolor | 1882 | Private collection (F1091) |
| | Two Women in the Woods | 1882 | Private Collection (F1665) |
| | Lying Cow | 1883 | Private collection (F1b) |
| | Lying Cow | 1883 | Location unknown (F1c) |
| | Potato Digging (Five Figures) | 1883 | Private collection (F9) |
| | A Wind-Beaten Tree | 1883 | Location unknown (stolen from private collection) (F10) |
| | The Sower (study) | 1883 | Location Unknown (F11) |
| | Cows in the Meadow | 1883 | Private collection (F15) |
| | Landscape with Dunes | 1883 | Private collection (F15a) |
| | Farmhouses in Loosduinen near The Hague at Twilight | 1883 | Centraal Museum, Utrecht, Netherlands (F16) |
| | Cottages | 1883 | Van Gogh Museum, Amsterdam (F17) |
| | Farmhouse Among Trees | 1883 | Museum Kolekcji Jana Pawla II, Warsaw, Poland (F18) |
| | Two Women in the Moor | 1883 | Van Gogh Museum, Amsterdam (F19) |
| | Peasant Burning Weeds | 1883 | Private collection (F20) |
| | Peat Boat with Two Figures | 1883 | Drents Museum, Assen, Netherlands (F21) |
| | Farm with Stacks of Peat | 1883 | Van Gogh Museum, Amsterdam (F22) |
| | Bulb Fields also Flower Beds in Holland | 1883 | Location unknown (F186) |
| | Landscape with a Church at Twilight | 1883 | Private collection (F188) |
| | Footbridge across a Ditch | 1883 | Private collection (F189) |
| | Woman on Her Deathbed, watercolor | 1883 | Kröller-Müller Museum, Otterlo, Netherlands (F841) |
| | Woman with Wheelbarrow, watercolor | 1883 | Kröller-Müller Museum, Otterlo, Netherlands (F1021) |
| | Saying Grace (van Gogh) also Women Praying, drawing | 1883 | Kröller-Müller Museum, Otterlo, Netherlands (F1053) |
| | Woman Seated also Woman with White Cloth around her Head, Sitting on a Bench, drawing | 1883 | Kröller-Müller Museum, Otterlo, Netherlands (F1056) |
| | Woman Feeding Chickens, drawing | 1883 | Kröller-Müller Museum, Otterlo, Netherlands (F1080) |
| | Peatery in Drenthe also Peat Bog, watercolor | 1883 | Private collection (F1094) |
| | Drawbridge in Nieuw New Amsterdam, watercolor | 1883 | Groninger Museum, Groningen, Netherlands (F1098) |
| | Landscape with Wheelbarrow also Heath with a Wheelbarrow, watercolor | 1883 | Cleveland Museum of Art, Cleveland, Ohio (F1100) |
| | A Wood Auction also Lumber Sale, watercolor | 1883 | Kröller-Müller Museum, Otterlo, Netherlands (F1113) |
| | Three Figures near a Canal with Windmill, drawing | 1883 | Location unknown (F1666) |
| | Landscape with Trees, watercolor | 1883 | Private collection (No F number, JH Add. 21) |
| | Marshy Landscape | 1883 | Private collection (No F number, JH 394) |
| | Weaver Near an Open Window | 1884 | Neue Pinakothek, Munich (F24) |
| | Congregation Leaving the Reformed Church in Nuenen | 1884 | Van Gogh Museum, Amsterdam (F25) |
| | Weaver Facing Right (Half-Figure) | 1884 | Private collection (F26) |
| | Weaver, Seen from the Front | 1884 | Museum Boijmans Van Beuningen, Rotterdam (F27) |
| | Weaver Facing Left with Spinning Wheel | 1884 | Museum of Fine Arts, Boston (F29) |
| | Loom With Weaver | 1884 | Kröller-Müller Museum, Otterlo, Netherlands (F30) |
| | Landscape with Pollard Willows (b/w copy of painting) | 1884 | Private collection (F31) |
| | Weaver Standing in Front of a Loom | 1884 | Private collection (F32) |
| | Weaver Facing Right also Weaver Standing in Front of the Loom" | 1884 | Private collection (F33) |
| | The Old Tower at Nuenen with a Ploughman | 1884 | Kröller-Müller Museum, Otterlo, Netherlands (F34) |
| | Loom With Weaver also Weaver Arranging Threads | 1884 | Kröller-Müller Museum, Otterlo, Netherlands (F35) |
| | Loom With Weaver also Weaver, Interior with Three Small Windows | 1884 | Kröller-Müller Museum, Otterlo, Netherlands (F37) |
| | Cart with Red and White Ox | 1884 | Kröller-Müller Museum, Otterlo, Netherlands (F38) |
| | Cart with Black Ox | 1884 | Portland Museum of Art, Portland, Maine (F39) |
| | The Old Tower in the Fields | 1884 | Private collection (F40) |
| | Farmers Planting Potatoes | 1884 | Kröller-Müller Museum, Otterlo, Netherlands (F41) |
| | Shepherd with a Flock of Sheep (b/w copy of painting) | 1884 | Soumaya Museum, Tizapán, Mexico (F42) |
| | Wood Gatherers in the Snow | 1884 | Private collection (F43) |
| | Water Mill at Gennep | 1884 | Noordbrabants Museum, 's-Hertogenbosch, Netherlands – on loan from the Netherlands Office for Fine Arts (F46) |
| | Water Mill at Gennep | 1884 | Private collection (F47) |
| | Water Mill at Opwetten | 1884 | Private collection (F48) |
| | Water Mill at Kollen Near Nuenen | 1884 | Private collection (F48a) |
| | Still Life with Four Stone Bottles, Flask and White Cup | 1884 | Kröller-Müller Museum, Otterlo (F50) |
| | Still Life with Coffee Mill, Pipe Case and Jug also Still Life with a Bearded-Man Jar | 1884 | Kröller-Müller Museum, Otterlo (F52) |
| | Still Life with Clogs and Pots | 1884 | Centraal Museum, Utrecht, Netherlands (on loan) (F54) |
| | Still Life with Two Sacks and a Bottle (b/w copy) | 1884 | Private collection (F55) |
| | Still Life with Five Bottles | 1884 | Österreichische Galerie Belvedere, Vienna (F56) |
| | Still Life with Pottery and Two Bottles | 1884 | Norton Simon Museum, Pasadena, California (F57) |
| | Still Life with Pottery, Beer Glass and a Bottle | 1884 | Private Collection (F58) |
| | Still Life with Paintbrushes in a Pot | 1884 | Private collection (F60) |
| | Still Life with Bottles and Earthenware | 1884–85 | Van Gogh Museum, Amsterdam (F61r) |
| | Still Life with Bottles and a Cowrie Shell | 1884 | Private collection (F64) |
| | Head of an Old Peasant Woman with White Cap | 1884 | Von der Heydt Museum, Wuppertal, Germany (F75) |
| | Vase with Honesty | 1884–85 | Van Gogh Museum, Amsterdam (F76) |
| | Old Church Tower at Nuenen | 1884 | Foundation E.G. Bührle Collection, Zürich (F88) |
| | Lane in Autumn | 1884 | Private collection (F120) |
| | Avenue of Poplars in Autumn | 1884 | Van Gogh Museum, Amsterdam (F122) |
| | Avenue of Poplars at Sunset | 1884 | Kröller-Müller Museum, Otterlo, Netherlands (F123) |
| | Water Mill at Gennep (b/w copy) | 1884 | Museo Thyssen-Bornemisza, Madrid, Spain (F125) |
| | Head of a Peasant Woman | 1884 | Private collection (F132) |
| | Head of a Peasant Woman with Dark Cap | 1884 | Private collection (F136a) |
| | Peasant Woman, Half Figure, Seated with White Cap | 1884 | Morohashi Museum of Modern Art: Kita-Shiobara-Mura (Fukushima), Japan (F143) |
| | Head of a Peasant Woman with White Cap | 1884 | Galerie Nathan, Zurich (F144) |
| | Head of an Old Peasant Woman with White Cap | 1884 | Private collection (F146) |
| | Head of a Peasant Woman with White Cap | 1884 | Saint Louis Art Museum, St Louis, Missouri (F146a) |
| | Head of a Peasant with Cap (b/w copy) | 1884 | Art Gallery of New South Wales, Sydney, Australia (F160a) |
| | Weaver Facing Right (Half-Figure) | 1884 | Private collection (F162) |
| | Potato Planting | 1884 | Von der Heydt Museum, Wuppertal, Germany (F172) |
| | Two Rats | 1884 | Private collection (F177) |
| | Still Life with Pots, Jar and Bottles | 1884 | Gemeentemuseum Den Haag, The Hague (F178r) |
| | The Old Tower of Nuenen with People Walking | 1884 | Private collection (F184) |
| | Parsonage Garden at Nuenen, The | 1884 | Groninger Museum, Groningen, Netherlands (F185) |
| | Village at Sunset also Farmer Town in the Evening | 1884 | Rijksmuseum Amsterdam (F190) |
| | Vase with Dead Leaves | 1884 | Private collection (F200) |
| | Loom With Weaver also Weaver at the Loom, drawing | 1884 | Kröller-Müller Museum, Otterlo, Netherlands (F1122) |
| | Weaver Standing in front of the Loom, drawing | 1884 | Kröller-Müller Museum, Otterlo, Netherlands (F1134) |
| | Head of a Woman | 1884–85 | Van Gogh Museum, Amsterdam (F156) |
| | Head of a Woman | 1884–85 | Van Gogh Museum, Amsterdam (F159) |
| | Head of a Man | 1884–85 | Van Gogh Museum, Amsterdam (F164) |
| | Woman Winding Yarn | 1885 | Van Gogh Museum, Amsterdam (F36) |
| | Autumn Landscape with Four Trees | 1885 | Kröller-Müller Museum, Otterlo, Netherlands (F44) |
| | Lane with Poplars | 1885 | Museum Boijmans Van Beuningen, Rotterdam (F45) |
| | Beer Tankards | 1885 | Van Gogh Museum, Amsterdam (F49) |
| | Still Life with Brass Cauldron and Jug | 1885 | Van Gogh Museum, Amsterdam (F51) |
| | Still Life with Earthenware and Bottles | 1885 | Van Gogh Museum, Amsterdam (F53) |
| | Still Life with Two Jars and Two Pumpkins | 1885 | Private collection (F59) |
| | Still Life with Straw Hat also Still Life with Yellow Straw Hat | 1885 | Kröller-Müller Museum, Otterlo (F62) |
| | Still Life with Earthenware, Bottle and Clogs | 1885 | Kröller-Müller Museum, Otterlo, Netherlands (F63) |
| | Head of a Peasant Woman with White Cap | 1885 | Location unknown (F65) |
| | Two Hands | 1885 | Private collection (F66) |
| | The Parsonage Garden at Nuenen in the Snow | 1885 | Hammer Museum, Los Angeles (F67) |
| | Old Station at Eindhoven, The | 1885 | Private Collection (F67a) |
| | Head of a Woman | 1885 | Van Gogh Museum, Amsterdam (F69) |
| | Peasant Woman, Seen against the Window | 1885 | Private collection, Tokyo (F70) |
| | Head of a Woman | 1885 | Van Gogh Museum, Amsterdam (F70a) |
| | Woman Sewing | 1885 | Van Gogh Museum, Amsterdam (F71) |
| | Peasant Woman Taking her Meal | 1885 | Kröller-Müller Museum, Otterlo, Netherlands (F72) |
| | Peasant Woman Seated before an Open Door, Peeling Potatoes (b/w copy of painting) | 1885 | Private collection (F73) |
| | Head of a Woman with Greenish Lace Cap | 1885 | Kröller-Müller Museum, Otterlo, Netherlands (F74) |
| | Study for The Potato Eaters | 1885 | Private collection (F77r) |
| | Study for The Potato Eaters | 1885 | Kröller-Müller Museum, Otterlo (F78) |
| | Landscape at Sunset | 1885 | Private collection (F79) |
| | Head of a Peasant Woman with a White Cap | 1885 | Foundation E.G. Bührle, Zurich (F80) |
| | Head of a Woman | 1885 | Van Gogh Museum, Amsterdam (F80a) |
| | Head of a Peasant Woman with White Cap | 1885 | Kunstmuseum Bern, Switzerland (F81) |
| | The Potato Eaters | 1885 | Van Gogh Museum, Amsterdam (F82) |
| | Cottage | 1885 | Van Gogh Museum, Amsterdam (F83) |
| | Old Church Tower at Nuenen | 1885 | Van Gogh Museum, Amsterdam (F84) |
| | Head of a Woman Wearing a White Cap | 1884–85 | Kröller-Müller Museum, Otterlo, Netherlands (F85) |
| | Head of a Peasant Woman in a White Bonnet | 1885 | Norton Simon Museum, Pasadena, California (F85a) |
| | Head of a Peasant Woman | 1885 | Kröller-Müller Museum, Otterlo, Netherlands (F86) |
| | The Old Cemetery Tower at Nuenen in the Snow | 1885 | Tate, London (F87) |
| | Cottage with Peasant Woman Digging | 1885 | Private collection (F89) |
| | Cottage and Woman with Goat | 1885 | Städel, Frankfurt, Germany (F90) |
| | Cottage with Trees also Cottage | June 1885 | Private collection (F91) |
| | Cottage with Trees | 1885 | Private collection (F92) |
| | Cottage with Trees | 1885 | Private collection (F92a) |
| | Cottage with Trees | 1885 | Wallraf-Richartz Museum, Cologne (F93) |
| | Peasant Woman Digging | 1885 | 's-Hertogenbosch, North Brabant (F94) |
| | Peasant Woman Digging also Woman with a Spade, Seen from Behind | 1885 | Art Gallery of Ontario, Toronto (F95) |
| | Peasant Woman Digging | 1885 | Barber Institute of Fine Arts, Birmingham (F95a) |
| | Two Peasant Women Digging (b/w copy of painting) | 1885 | Private collection (F96) |
| | Two Peasant Women Digging Potatoes | 1885 | Kröller-Müller Museum, Otterlo, Netherlands (F97 – also F129) |
| | Peasant Woman Digging Up Potatoes | 1885 | Royal Museum of Fine Arts, Antwerp, Belgium (F98) |
| | Basket of Apples | 1885 | Van Gogh Museum, Amsterdam (F99) |
| | Baskets of Potatoes | 1885 | Van Gogh Museum, Amsterdam (F100) |
| | Basket of Apples | 1885 | Van Gogh Museum, Amsterdam (F101) |
| | Still Life with a Basket of Potatoes, Surrounded by Autumn Leaves and Vegetables | 1885 | Private collection (F102) |
| | Still Life with Vegetables and Fruit | 1885 | Van Gogh Museum, Amsterdam (F103) |
| | Still Life with Ginger Jar and Apples (b/w copy of painting) | 1885 | Private collection (F104) |
| | Still Life with Ginger Jar and Onions | 1885 | The McMaster Art Gallery, Hamilton, Ontario (F104a) |
| | Still Life with an Earthen Bowl and Pears | 1885 | Centraal Museum, Utrecht, Netherlands (F105) |
| | Still Life with a Basket of Apples and Two Pumpkins | 1885 | Kröller-Müller Museum, Otterlo, Netherlands (F106) |
| | Basket of Potatoes | 1885 | Van Gogh Museum, Amsterdam (F107) |
| | Still Life with Three Birds' Nests | 1885 | Kröller-Müller Museum, Otterlo, Netherlands (F108) |
| | Still Life with Birds' Nests | 1885 | Van Gogh Museum, Amsterdam (F109r) |
| | Still Life with Three Birds' Nests | 1885 | Gemeentemuseum Den Haag, Netherlands (on loan) (F110) |
| | Still Life with Birds' Nests | 1885 | Van Gogh Museum, Amsterdam (F111) |
| | Still Life with Three Birds' Nests | 1885 | Kröller-Müller Museum, Otterlo, Netherlands (F112) |
| | View of Amsterdam from Central Station | 1885 | Private collection, Amsterdam (F113) |
| | Still Life with a Basket of Apples | 1885 | Private collection (F115) |
| | Basket with Potatoes | 1885 | Van Gogh Museum, Amsterdam (F116) |
| | Still Life with Open Bible, Extinguished Candle and Novel also Still Life with Bible | 1885 | Van Gogh Museum, Amsterdam, Netherlands (F117) |
| | Still Life with an Earthen Bowl and Potatoes | 1885 | Museum Boijmans-van Beuningen, Rotterdam (on loan) (F118) |
| | Autumn Landscape | 1885 | Fitzwilliam Museum, University of Cambridge, England (F119) |
| | Autumn Landscape at Dusk | 1885 | Centraal Museum, Utrecht, Netherlands (F121) |
| | Parsonage Garden at Nuenen with Pond and Figures, The | 1885 | Destroyed by fire in World War Two, Rotterdam (F124) |
| | Peasant Woman Sitting on a Chair | 1885 | Private collection (F126) |
| | Peasant Woman Sewing | 1885 | Private collection (F126a) |
| | Peasant Woman, Seated (Half-Figure) | 1885 | Private collection (F127) |
| | Peasant Woman Standing Indoors | 1885 | National Museum of Serbia, Belgrade (F128) |
| | Two Peasant Women Digging Potatoes | 1885 | Kröller-Müller Museum, Otterlo, Netherlands (F129 – also F97) |
| | Peasant and Peasant Woman Planting Potatoes | 1885 | Kunsthaus Zürich (F129a) |
| | Head of a Woman | 1885 | Van Gogh Museum, Amsterdam (F130) |
| | Head of a Peasant Woman with White Cap | 1885 | Woodone Museum of Art, Yoshiwa, Japan (F131) |
| | Head of a Peasant Woman with Dark Cap (b/w copy of painting) | 1885 | Private collection (F133) |
| | Head of a Peasant Woman with Dark Cap | 1885 | Musée d'Orsay, Paris (F134) |
| | Head of a Peasant Woman with Dark Cap | 1885 | Cincinnati Art Museum, Cincinnati, Ohio (F135) |
| | Head of a Peasant Woman with Brownish Cap | 1885 | Dufresne Art Gallery, Paris (F136) |
| | Head of a Peasant Woman with Dark Cap | 1885 | Private collection (F137) |
| | Head of a Peasant Woman with Dark Cap (b/w copy of painting) | 1885 | Hecht Museum, Haifa, Israel (F138) |
| | Peasant Woman Raking | 1885 | Private collection (F139) |
| | Head of a Peasant Woman with White Cap | 1885 | National Gallery of Scotland, Edinburgh (F140) |
| | Gordina de Groot, Head | 1885 | Private collection (F141) |
| | Peasant Woman Digging in Front of Her Cottage | 1885 | Art Institute of Chicago (F142) |
| | Peasant Woman, Seated with White Cap | 1885 | Noordbrabants, Den Bosch (F144a) |
| | Peasant Woman Peeling Potatoes | 1885 | Private collection (F145) |
| | Woman Lifting Potatoes | 1885 | Van Gogh Museum, Amsterdam (F147) |
| | Peasant Woman Laundering | 1885 | Private collection (F148) |
| | Peasant Woman with Child on Her Lap | 1885 | Private collection (F149) |
| | Head of a Young Peasant Woman with Dark Cap | 1885 | Kröller-Müller Museum, Otterlo, Netherlands (F150) |
| | Head of a Woman | 1885 | Kröller-Müller Museum, Otterlo, Netherlands (F151) |
| | Woman with a Broom also Woman Sweeping the Floor | 1885 | Kröller-Müller Museum, Otterlo, Netherlands (F152) |
| | Head of a Woman | 1885 | Kröller-Müller Museum, Otterlo, Netherlands (F153) |
| | Head of a Peasant Woman with Dark Cap | 1885 | Private collection (F153a) |
| | Head of a Woman with Brownish Cap | 1885 | Kröller-Müller Museum, Otterlo, Netherlands (F154) |
| | Head of a Peasant Woman in a Green Shawl | 1885 | Museum of Fine Arts of Lyon, France (F155) |
| | Peasant Woman Darning Stockings (b/w copy of a very dark painting) | 1885 | Private collection (F157) |
| | Peasant Woman by the Fireplace | 1885 | Musée d'Orsay, Paris (F158) |
| | Head of a Woman | 1885 | Van Gogh Museum, Amsterdam (F160) |
| | Woman with a Mourning Shawl (b/w copy of painting) | 1885 | Van Gogh Museum, Amsterdam (F161) |
| | Head of a Young Peasant in a Peaked Cap | 1885 | Royal Museums of Fine Arts of Belgium, Brussels (F163) |
| | Head of a Young Peasant in a Peaked Cap | 1885 | Nelson-Atkins Museum of Fine Art, Kansas City (F165) |
| | Peasant Digging | 1885 | Kröller-Müller Museum, Otterlo, Netherlands (F166) |
| | Woman at Table also Peasant Sitting at a Table | 1885 | Kröller-Müller Museum, Otterlo, Netherlands (F167) |
| | Head of a Man | 1885 | Kröller-Müller Museum, Otterlo, Netherlands (F168) |
| | Head of a Man with a Pipe | 1885 | Kröller-Müller Museum, Otterlo, Netherlands (F169) |
| | Head of a Peasant with a Cap | 1885 | Collection Niarchos (F169a) |
| | Cottage with Peasant Coming Home | 1885 | Soumaya Museum, Mexico City (F170) |
| | Peasant Making a Basket | 1885 | Musée des Beaux-Arts, La-Chaux-de-Fonds, Switzerland (F171) |
| | Peasant Making a Basket | 1885 | Private collection (F171a) |
| | Head of an Old Woman with White Cap (The Midwife) | 1885 | Van Gogh Museum, Amsterdam (F174) |
| | Bobbin Winder | 1885 | Van Gogh Museum, Amsterdam (F175) |
| | Peasant Woman Cooking by a Fireplace (b/w copy of painting) | 1885 | Metropolitan Museum of Art, New York (F176) |
| | Flying Fox | 1885 | Van Gogh Museum, Amsterdam (F177a) |
| | Head of a Man | 1885 | Van Gogh Museum, Amsterdam (F179r) |
| | The Vicarage at Nuenen | 1885 | Van Gogh Museum, Amsterdam (F182) |
| | Parsonage at Nuenen by Moonlight, The | 1885 | Private collection (F183) |
| | Cottage with Trees and Peasant Woman | 1885 | Private collection (F187) |
| | Landscape at Dusk | 1885 | Thyssen-Bornemisza Museum, Madrid (F191) |
| | Country Lane with Two Figures | 1885 | Private collection (F191a) |
| | Sheaves of Wheat in a Field | 1885 | Kröller-Müller Museum, Otterlo, Netherlands (F193) |
| | Parsonage Garden at Nuenen in the Snow, The | 1885 | Norton Simon Museum, Pasadena (F194) |
| | Willow, The (b/w copy of painting) | 1885 | Private Collection, previously stolen but recovered (F195) |
| | Landscape with Windblown Trees | 1885 | Location unknown (F196) |
| | Still Life with Copper Coffeepot and Two White Bowls (b/w copy of painting) | 1885 | Private collection (F202) |
| | Portrait of an Old Man with Beard | 1885 | Van Gogh Museum, Amsterdam (F205) |
| | Head of a Woman with her Hair Loose | 1885 | Van Gogh Museum, Amsterdam (F206) |
| | Portrait of a Woman with Red Ribbon | 1885 | Private collection (F207) |
| | Portrait of Woman in Blue | 1885 | Van Gogh Museum, Amsterdam (F207a) |
| | View of a Town with Drawbridge | 1885 | Private collection (F210) |
| | The De Ruijterkade in Amsterdam | 1885 | Van Gogh Museum, Amsterdam (F211) |
| | Still Life with a Basket of Vegetables | 1885 | Collection Anneliese Brand, Landsberg/Lech (F212a) |
| | Backyards of old Houses in Antwerp in the Snow | 1885 | Van Gogh Museum, Amsterdam (F260) |
| | Head of a Woman | 1885 | Van Gogh Museum, Amsterdam (F269r) |
| | Peasant Woman Peeling Potatoes (b/w copy of painting) | 1885 | Metropolitan Museum of Art, New York (F365r) |
| | Head of a Woman | 1885 | Van Gogh Museum, Amsterdam (F388r) |
| | The Parsonage Garden at Nuenen with Pond and Figures, watercolor | 1885 | Private collection (F1234) |
| | Head of a Man, Drawing | 1885 | Van Gogh Museum, Amsterdam (F1358) |
| | Head of an Old Man, Drawing | 1885 | Van Gogh Museum, Amsterdam (F1359) |
| | Study for The Potato Eaters, Lithograph | 1885 | Museo Thyssen-Bornemisza, Madrid, Spain or Location unknown (F1661) |
| | Head of a Peasant Woman with Dark Cap | 1885 | Private collection (F1667) |
| | Gordina de Groot, Head | 1885 | Private collection (F1668) |
| | Cottage with Decrepit barn and Stooping Woman | 1885 | Private collection (F1669) |
| | Cottage | June–July 1885 | Private collection (No F number, JH Add. 23) |
| | The Green Parrot | 1886 | Private collection (F14) |
| | The Kingfisher | 1886 | Van Gogh Museum, Amsterdam (F28) [Artist disputed] |
| | Self-Portrait | 1886 | Gemeentemuseum Den Haag, The Hague (F178v) |
| | Self-Portrait with Pipe | 1886 | Van Gogh Museum, Amsterdam (F180) |
| | Self-Portrait with Dark Felt Hat at the Easel | 1886 | Van Gogh Museum, Amsterdam (F181) |
| | Still Life with a Bouquet of Daisies | 1886 | Philadelphia Museum of Art (F197) |
| | Ginger Jar Filled with Chrysanthemums | 1886 | Private collection (F198) |
| | Glass with Hellebores | 1886 | Private collection (F199) |
| | Geranium in a Flowerpot | 1886 | Private collection (F201) |
| | Still Life with Bloaters also Smoked Herrings | 1886 | Kröller-Müller Museum, Otterlo (F203) |
| | Self-Portrait with Pipe | 1886 | Van Gogh Museum, Amsterdam (F208) |
| | Self-Portrait with Dark Felt Hat | 1886 | Van Gogh Museum, Amsterdam (F208a) |
| | Skull of a Skeleton with Burning Cigarette | 1886 | Van Gogh Museum, Amsterdam (F212) |
| | Fritillaries | 1886 | Location unknown (F214) |
| | Nude Study of a Little Girl, Seated | 1886 | Van Gogh Museum, Amsterdam (F215) |
| | Portrait of a Woman, Facing Right | 1886 | Van Gogh Museum, Amsterdam (F215b) |
| | Portrait of a Woman with Hat | 1886 | Van Gogh Museum, Amsterdam (F215c) |
| | Portrait of a Woman Seated | 1886 | Van Gogh Museum, Amsterdam (F215d) |
| | Plaster Statuette of a Female Torso | 1886 | Van Gogh Museum, Amsterdam (F216a) |
| | Plaster Statuette of a Female Torso | 1886 | Van Gogh Museum, Amsterdam (F216b) |
| | Plaster Statuette of a Horse | 1886 | Van Gogh Museum, Amsterdam (F216c) |
| | Plaster Statuette of a Female Torso | 1886 | Van Gogh Museum, Amsterdam (F216d) |
| | Plaster Statuette of a Male Torso | 1886 | Van Gogh Museum, Amsterdam (F216e) |
| | Plaster Statuette of a Kneeling Man | 1886 | Van Gogh Museum, Amsterdam (F216f) |
| | Plaster Statuette of a Female Torso | 1886 | Van Gogh Museum, Amsterdam (F216g) |
| | Plaster Statuette of a Female Torso | 1886 | Van Gogh Museum, Amsterdam (F216h) |
| | Plaster Statuette of a Female Torso | 1886 | Van Gogh Museum, Amsterdam (F216i) |
| | Plaster Statuette of a Female Torso | 1886 | Van Gogh Museum, Amsterdam (F216j) |
| | Bowl with Chrysanthemums | 1886 | Private Collection (F217) |
| | Glass with Roses | 1886 | Van Gogh Museum, Amsterdam (F218) |
| | Still Life with Apple, Meat, and Bread Rolls | 1886 | Kröller-Müller Museum, Otterlo (F219) |
| | Vase with Carnations | 1886 | Museum Boijmans Van Beuningen, Rotterdam, Netherlands (F220) |
| | Pont du Carrousel and the Louvre, The | 1886 | Carlsberg Foundation, Copenhagen (F221) |
| | Fourteenth of July Celebration in Paris, The | 1886 | Private Collection (F222) |
| | Lane at the Jardin du Luxembourg | 1886 | Sterling & Francine Clark Art Institute, Williamstown, Massachusetts (F223) |
| | Bois de Boulogne with People Walking, The | 1886 | Private Collection (F224) |
| | Bois de Boulogne with People Walking, The | 1886 | Noro Foundation, Curaçao, Netherlands Antilles (F225) |
| | Le Moulin de la Galette | 1886 | Stiftung Langmatt, Baden, Switzerland (F226) |
| | Le Moulin de la Galette | 1886 | Kröller-Müller Museum, Otterlo, Netherlands (F227) |
| | Le Moulin de la Galette | 1886 | Neue Nationalgalerie, Berlin (F228) |
| | The Hill of Montmartre with Stone Quarry | 1886 | Van Gogh Museum, Amsterdam (F229) |
| | Hill of Montmartre with Quarry, The | 1886 | Van Gogh Museum, Amsterdam (F230) |
| | View of Roofs and Backs of Houses | 1886 | Van Gogh Museum, Amsterdam (F231) |
| | Sloping Path in Montmartre | 1886 | Van Gogh Museum, Amsterdam (F232) |
| | Vase with Autumn Asters also Vase with Asters and Phlox | 1886 | Van Gogh Museum, Amsterdam (F234) |
| | Vase with Hollyhocks | 1886 | Kunsthaus Zürich (F235) |
| | Vase with White and Red Carnations | 1886 | Private collection (F236) |
| | Vase with Gladioli and Carnations | 1886 | Museum Boijmans Van Beuningen, Rotterdam (F237) |
| | Terrace of a Cafe on Montmartre (La Guinguette) | 1886 | Musée d'Orsay, Paris (F238) |
| | Vase with Zinnias and Geraniums | 1886 | National Gallery of Canada, Ottawa, Canada (F241) |
| | Vase with Gladioli and Carnations | 1886 | Private collection (F242) |
| | Vase with Carnations | 1886 | Detroit Institute of Arts, Michigan (F243) |
| | Vase with Myosotis and Peonies | 1886 | Van Gogh Museum, Amsterdam (F243a) |
| | Tambourine with Pansies | 1886 | Van Gogh Museum, Amsterdam (F244) |
| | Vase with Carnations | 1886 | Stedelijk Museum, Amsterdam (F245) |
| | Vase of white carnations and roses and bottle | 1886 | Kröller-Müller Museum, Otterlo (F246) |
| | Vase with Red Gladioli | 1886 | Private collection (F247) |
| | Vase with Red Gladioli | 1886 | Private collection (F248) |
| | Vase with Gladioli | 1886 | Van Gogh Museum, Amsterdam (F248a) |
| | Vase with Red Gladioli | 1886 | Musée Jenisch, Vevey, Switzerland (F248b) |
| | Bowl with Peonies and Roses | 1886 | Kröller-Müller Museum, Otterlo, Netherlands (F249) |
| | Bowl with Sunflowers, Roses and Other Flowers | 1886 | Kunsthalle Mannheim, Mannheim, Germany (F250) |
| | Bowl with Zinnias and Other Flowers also Vase with Zinnias and Other Flowers | 1886 | National Gallery of Canada, Ottawa, Canada (F251) |
| | Vase with Zinnias | 1886 | Kreeger Museum, Washington D.C. (F252) |
| | Still life with bottle, two glasses, cheese and bread | 1886 | Van Gogh Museum, Amsterdam (F253) |
| | A Pair of Shoes | 1886 | Van Gogh Museum, Amsterdam (F255) |
| | Still Life with Mussels and Shrimps | 1886 | Van Gogh Museum, Amsterdam (F256) |
| | White Vase with Roses and Other Flowers | 1886 | Private collection (F258) |
| | Vase with Carnations and Zinnias | 1886 | Private collection (F259) |
| | View of the Roofs of Paris | 1886 | Van Gogh Museum, Amsterdam (F261) |
| | View of Paris from Montmartre | 1886 | Kunstmuseum Basel, Basel, Switzerland (F262) |
| | Portrait of Père Tanguy | 1886–87 | Ny Carlsberg Glyptotek, Copenhagen (F263) |
| | Outskirts of Paris | 1886 | Private collection (F264) |
| | Shelter on Montmartre | 1886 | Fine Arts Museums of San Francisco, San Francisco (F264a) |
| | View of Paris from near Montmartre | 1886 | National Gallery of Ireland, Dublin (F265) |
| | The Hill of Montmartre also View of Montmartre with Windmills | 1886 | Kröller-Müller Museum, Otterlo, Netherlands (F266) |
| | Windmill on Montmartre (b/w copy) | 1886 | Destroyed by fire in 1967 (F271) |
| | Terrace and Observation Deck at the Moulin de Blute-Fin, Montmartre | 1886 | Art Institute of Chicago (F272) |
| | Le Moulin de Blute-Fin | 1886 | Bridgestone Museum of Art, Tokyo (F273) |
| | Le Moulin de la Galette also The Blute-Fin Windmill, Montmartre | 1886 | Kelvingrove Art Gallery and MuseumGlasgow (F274) |
| | Le Moulin de blute-fin | 1886 | Private collection[4] |
| | Vase with cornflowers and poppies, peonies and chrysanthemums | 1886 | Kröller-Müller Museum, Otterlo (F278) |
| | Vase with Red Poppies | 1886 | Wadsworth Atheneum, Hartford (F279) |
| | Coleus Plant in a Flowerpot | 1886 | Van Gogh Museum, Amsterdam (F281) |
| | Cineraria in a Flowerpot | 1886 | Museum Boijmans Van Beuningen, Rotterdam, Netherlands (F282) |
| | Still Life with Bloaters also Still Life: The Saurs Herrings | 1886 | Kunstmuseum, Basel, Switzerland(F283) |
| | Vase with Asters, Salvia and Other Flowers | 1886 | Gemeentemuseum Den Haag, The Hague, Netherlands(F286) |
| | Vase with Gladioli and Lilac | 1886 | Private collection (F286a) |
| | Poppy Flowers also Vase with Viscaria | 1886 | Stolen August 2010 from Mohammed Mahmoud Khalil palace, Cairo (F324a) |
| | Vase with Red and White Carnation on a Yellow Background | 1886 | Kröller-Müller Museum, Otterlo (F327) |
| | A Pair of Shoes | 1886 | Van Gogh Museum, Amsterdam (F331) |
| | Three Pairs of Shoes | 1886 | Harvard Art Museums (Fogg Art Museum), Harvard University, Cambridge (F332) |
| | Le Moulin de la Galette | 1886 | Museo Nacional de Bellas Artes (Buenos Aires), Argentina (F348) |
| | Le Moulin de la Galette | 1886 | Carnegie Museum of Art, Pittsburg (F348a) |
| | Le Moulin de la Galette | 1886 | Private collection (F349) |
| | Vase with Carnations and Other Flowers | 1886 | Kreeger Museum, Washington D.C. (F596) |
| | Still Life with Scabiosa and Ranunculus | 1886 | Takahata Art Gallery, Osaka (F666) |
| | Vase with Peonies | 1886 | Private collection (F666a) |
| | Still Life with Meat, Vegetables and Pottery | 1886 | Private collection (F1670) |
| | Still Life with Two Herrings, a Cloth and a Glass | 1886 | Private collection (F1671) |
| | Twilight, before the Storm: Montmartre | 1886 | Private collection (F1672) |
| | Bowl with Daffodils | 1886 | Private collection (F none, Add 1) |
| | Vase with Gladioli | 1886 | Private collection (F none, JH none) |
| | Still life with meadow flowers and roses | 1886 | Kröller-Müller Museum, Otterlo, Netherlands |
| | Portrait of the Art Dealer Alexander Reid; Sitting in an Easy Chair | 1886–87 | Fred Jones Jr. Museum of Art, Norman, Oklahoma (F270) |
| | Portrait of a Man with a Moustache | 1886–87 | Location unknown (F288) |
| | Portrait of a Man with a Skull Cap (Etienne-Lucien Martin) | 1886–87 | Van Gogh Museum, Amsterdam (F289) |
| | Self-Portrait with Grey Felt Hat | 1886-87 | Rijksmuseum, Amsterdam (F295) |
| | Portrait of a Woman (Madame Tanguy?) | 1886–87? | Kunstmuseum, Basel, Switzerland (F357) |
| | Self-Portrait with Felt Hat (reverse image) | 1887 | Van Gogh Museum, Amsterdam, Netherlands (F61v) |
| | Self-portrait | 1887 | Van Gogh Museum, Amsterdam (F77v) |
| | Self-Portrait | 1887 | Van Gogh Museum, Amsterdam (F109v) |
| | Self-Portrait with Straw Hat and a Pipe (reverse image) | 1887 | Van Gogh Museum, Amsterdam (F179v) |
| | Fritillaries in a Copper Vase | 1887 | Musée d'Orsay, Paris (F213) |
| | Plaster Statuette of a Female Torso | 1887–88 | Private collection (F216) |
| | Roadway with Underpass (The Viaduct) | 1887 | Solomon R. Guggenheim Museum, New York (F239) |
| | The Seine Bridge at Asnieres | 1887 | Private collection (F240) |
| | Still Life with Apples | 1887–88 | Van Gogh Museum, Amsterdam (F254) |
| | Self-Portrait with Pipe and Glass | 1887 | Van Gogh Museum, Amsterdam (F263a) |
| | Factories Seen from a Hillside in Moonlight | 1887 | Van Gogh Museum, Amsterdam (F266a) |
| | Self-Portrait | 1887 | Van Gogh Museum, Amsterdam (F267) |
| | Self-Portrait | 1887 | Wadsworth Atheneum, Hartford, Connecticut (F268) |
| | Self-Portrait | 1887 | Van Gogh Museum, Amsterdam (F269v) |
| | Chestnut Tree in Blossom | 1887 | Van Gogh Museum, Amsterdam (F270a) |
| | Lane in Voyer d'Argenson Park at Asnieres | 1887 | Yale University Art Gallery, New Haven, Connecticut (F275) |
| | Lane in Voyer d'Argenson Park at Asnieres | 1887 | Yale University Art Gallery, New Haven, Connecticut (F276) |
| | Avenue in Voyer d'Argenson Park at Asnieres | 1887 | Private collection (F277) |
| | Still Life with Bloaters and Garlic | 1887 | Bridgestone Museum of Art, Tokyo (F283b) |
| | Lilacs | 1887 | Hammer Museum, Los Angeles (286b) |
| | Trees in a Field on a Sunny Day | 1887 | Private collection, Amsterdam (F291) |
| | Boulevard de Clichy | 1887 | Van Gogh Museum, Amsterdam (F292) |
| | The Banks of the Seine | 1887 | Van Gogh Museum, Amsterdam (F293) |
| | Portrait of Theo van Gogh | 1887 | Van Gogh Museum, Amsterdam (F294) |
| | Self-Portrait with Grey Felt Hat | 1887 | Van Gogh Museum, Amsterdam (F296) |
| | Skull | 1887–88 | Van Gogh Museum, Amsterdam (F297) |
| | Skull | 1887–88 | Van Gogh Museum, Amsterdam (F297a) |
| | The Seine with a Rowing Boat (b/w copy) | 1887 | Private collection (F298) |
| | Walk Along the Banks of the Seine Near Asnieres | 1887 | Van Gogh Museum, Amsterdam (F299) |
| | View of a River with Rowing Boats | 1887 | Private collection (F300) |
| | The Seine Bridge at Asnieres | 1887 | Foundation E.G. Bührle Collection, Zurich (F301) |
| | Banks of the Seine with the Pont de Clichy | 1887 | Private collection of Philip Niarchos or Tate Gallery, London (F302) |
| | Bridges at Asniers also The Seine with the Pont de Clichy | 1887 | Wallraf-Richartz Museum, Cologne, Germany (F303) |
| | The Seine with the Pont de la Grande Jette | 1887 | Van Gogh Museum, Amsterdam (F304) |
| | Entrance of Voyer d'Argenson Park at Asnières | 1887 | Private Collection (F305) |
| | Undergrowth | 1887 | Centraal Museum, Utrecht, Netherlands (F306) |
| | Trees and Undergrowth | 1887 | Van Gogh Museum, Amsterdam (F307) |
| | Undergrowth | 1887 | Van Gogh Museum, Amsterdam (F308) |
| | Path in the Woods | 1887 | Van Gogh Museum, Amsterdam (F309) |
| | Trees and Undergrowth | 1887 | Van Gogh Museum, Amsterdam (F309a) |
| | Wheat Field with a Lark | 1887 | reportedly at Van Gogh Museum, Amsterdam (F310) |
| | Edge of a Wheatfield with Poppies | 1887 | Private collection (image shown illustratively is the black/white drawing) (F310a) |
| | Bathing Float on the Seine at Asnieres | 1887 | Virginia Museum of Fine Arts, Richmond, Virginia (F311) |
| | The Restaurant de la Sirène, Asnières | 1887 | Ashmolean Museum, Oxford, England (F312) |
| | The Restaurant de la Sirène at Asnières | 1887 | Musée d'Orsay, Paris (F313) |
| | Couples in the Voyer d'Argenson park at Asnieres | 1887 | Van Gogh Museum, Amsterdam (F314) |
| | Corner of Voyer d'Argenson Park at Asnieres | 1887 | Private collection (F315) |
| | Vegetable Gardens in Montmartre: La Butte Montmartre | 1887 | Van Gogh Museum, Amsterdam (F316) |
| | Factories at Asnieres Seen from the Quai de Clichy | 1887 | Saint Louis Art Museum, St. Louis, Missouri (F317) |
| | The Factory at Asnieres | 1887 | Barnes Foundation, Merion, Pennsylvania (F318) |
| | Self-Portrait with a Japanese Print | 1887 | Kunstmuseum Basel, Switzerland (F319) |
| | Self-Portrait | 1887 | Musée d'Orsay, Paris (F320) |
| | Exterior of a Restaurant at Asnieres | 1887 | Van Gogh Museum, Amsterdam (F321) |
| | Vase with Lilacs, Daisies and Anemones | 1887 | Musée d'Art et d'Histoire (Geneva) (F322) |
| | Vase with Daisies and Anemones | 1887 | Kröller-Müller Museum, Otterlo (F323) |
| | Vase with Cornflowers and Poppies | 1887 | Private collection (F324) |
| | Nude Woman Reclining (Recumbent Nude) | 1887 | Kröller-Müller Museum, Otterlo, Netherlands (F328) |
| | Nude Woman Reclining, Seen from the Back | 1887 | Private collection (F329) |
| | Nude Woman on a Bed | 1887 | Barnes Foundation, Merion, Pennsylvania (F330) |
| | A Pair of Boots | 1887 | Baltimore Museum of Art, Baltimore, Maryland (F333) |
| | Still Life with a Basket of Crocuses | 1887 | Van Gogh Museum, Amsterdam (F334) |
| | Still Life with Three Books | 1887 | Van Gogh Museum, Amsterdam (F335) |
| | Basket of Sprouting Bulbs | 1887 | Van Gogh Museum, Amsterdam (F336) |
| | Flowerpot with Chives | 1887 | Van Gogh Museum, Amsterdam (F337) |
| | Still Life with Lemons on a plate | 1887 | Van Gogh Museum, Amsterdam (F338) |
| | Still Life with Glass of Absinthe and a Carafe | 1887 | Van Gogh Museum, Amsterdam (F339) |
| | Still Life with Decanter and Lemons on a Plate | 1887 | Van Gogh Museum, Amsterdam (F340) |
| | View of Paris from Vincent's Room in the Rue Lepic | 1887 | Van Gogh Museum, Amsterdam (F341) |
| | View from Vincent's Window | 1887 | Private collection (F341a) |
| | Interior of a Restaurant | 1887 | Kröller-Müller Museum, Otterlo, Netherlands (F342) |
| | Portrait of the Art Dealer Alexander Reid | 1887 | Kelvingrove Art Gallery and Museum, Glasgow, Scotland (F343) |
| | Self-Portrait | 1887 | Art Institute of Chicago (F345) |
| | Vegetable Gardens in Montmartre: La Butte Montmartre | 1887 | Van Gogh Museum, Amsterdam (F346) |
| | Street Scene in Montmartre: Le Moulin a Poivre | 1887 | Van Gogh Museum, Amsterdam (F347) |
| | Le Moulin de la Galette | 1887 | Carnegie Museum of Art, Pittsburgh, Pennsylvania (F348a) |
| | Vegetable Gardens in Montmartre: La Butte Montmartre | 1887 | Stedelijk Museum, Amsterdam (F350) |
| | On the Outskirts of Paris | 1887 | Private Collection (F351) |
| | River Bank in Springtime also Banks of the Seine with the Pont de Clichy | 1887 | Dallas Museum of Art, Dallas, Texas (F352) |
| | The Banks of the Seine with Boats (b/w copy) | 1887 | Private collection (F353) |
| | Fishing in Spring, the Pont de Clichy (Asnières) | 1887 | Art Institute of Chicago (F354) |
| | The Rispal Restaurant at Asnières | 1887 | Nelson-Atkins Museum of Fine Art, Kansas City (F355) |
| | Self-Portrait | 1887 | Van Gogh Museum, Amsterdam (F356) |
| | Still Life with Piles of French Novels and a Glass with a Rose (Romans Parisiens) | 1887 | Private Collection, Switzerland (F359) |
| | Still Life with Plaster Statuette, a Rose and Two Novels | 1887 | Kröller-Müller Museum, Otterlo (F360) |
| | Outskirts of Paris: Road with Peasant Shouldering a Spade | 1887 | Private collection (F361) |
| | Park at Asnieres in Spring | 1887 | Private collection (F362) |
| | Portrait of Pére Tanguy | 1887 | Musée Rodin, Paris, France (F363) |
| | Woman Sitting in the Grass | 1887 | Private collection (F367) |
| | A Woman Walking in a Garden | 1887 | Private collection (F368) |
| | Mother by a Cradle, Portrait of Leonie Rose Davy-Charbuy | 1887 | Van Gogh Museum, Amsterdam (F369) |
| | Agostina Segatori Sitting in the Café du Tambourin | 1887 | Van Gogh Museum, Amsterdam (F370) |
| | Japonaiserie: Flowering Plum Tree (after Hiroshige) and Flowering Plum Tree | 1887 | Van Gogh Museum, Amsterdam (F371) |
| | Japonaiserie: Bridge in the Rain (after Hiroshige) and Bridge in the Rain | 1887 | Van Gogh Museum, Amsterdam (F372) |
| | The Courtesan (after Eisen) and Copy after Eisen | 1887 | Van Gogh Museum, Amsterdam (F373) |
| | Still Life with Red Cabbages and Onions | 1887 | Van Gogh Museum, Amsterdam (F374) |
| | Two Cut Sunflowers | 1887 | Metropolitan Museum of Art, New York (F375) |
| | Two Cut Sunflowers | 1887 | Kunstmuseum Bern, Switzerland (F376) |
| | Two Cut Sunflowers | 1887 | Van Gogh Museum, Amsterdam (F377) |
| | Still Life with Basket of Apples (to Lucien Pissarro) | 1887 | Kröller-Müller Museum, Otterlo, Netherlands (F378) |
| | Still Life with Basket of Apples | 1887–88 | Saint Louis Art Museum, St Louis, Missouri (F379) |
| | Self-Portrait | 1887 | Kröller-Müller Museum, Otterlo, Netherlands (F380) |
| | Italian Woman (Agostina Segatori) | 1887 | Musée d'Orsay, Paris (F381) |
| | Still Life with Apples, Pears, Lemons and Grapes | 1887 | Art Institute of Chicago (F382) |
| | Still Life with Grapes, Pears and Lemons | 1887 | Van Gogh Museum, Amsterdam (F383) |
| | Garden with Sunflowers | 1887 | Van Gogh Museum, Amsterdam (F388v) |
| | Four Sunflowers Gone to Seed | 1887 | Kröller-Müller Museum, Otterlo, Netherlands (F452) |
| | Self-Portrait with Straw Hat | 1887 | Van Gogh Museum, Amsterdam, Netherlands (F469) |
| | Self-Portrait with Straw Hat and Pipe | 1887 | Van Gogh Museum, Amsterdam (F524) |
| | Self-Portrait with Straw Hat | 1887 | Detroit Institute of Arts, Michigan (F526) |
| | Pasture in Bloom | 1887 | Kröller-Müller Museum, Otterlo, Netherlands (F583) |
| | Chrysanthemums and Wild Flowers in a Vase | 1887 | Metropolitan Museum of Art, New York (F588) |
| | Still Life with Quince Pears | 1887 | Galerie Neue Meister, Dresden, Germany (F602) |
| | Still Life with Grapes | 1887 | Van Gogh Museum, Amsterdam (F603) |
| | House with Sunflowers (b/w copy) | 1887 | Private collection (F810) |
| | Self-Portraits (pencil and ink) | 1887 | Van Gogh Museum, Amsterdam (F1378r) |
| | Street Scene in Montmartre | 1887 | Private collection (No F number, JH1240) |
| | The Fortifications of Paris with Houses or The Ramparts of Paris, watercolor | 1887 | Whitworth Art Gallery, Manchester, England (F1403) |
| | Outskirts of Paris near Montmartre, watercolor | 1887 | Stedelijk Museum, Amsterdam (F1410) |
| | Flowers in a Blue Vase | 1887 | Private collection (no F#, Add20) |
| | Portrait of Père Tanguy | 1887-88 | Private collection of Philip Niarchos or Tate Gallery, London (F364) |
| | Self-Portrait with Felt Hat | 1887-1888 | Van Gogh Museum, Amsterdam, Netherlands (F344) |
| | Self-Portrait with Straw Hat | 1887–88 | Metropolitan Museum of Art, New York (F365v) |
| | Self-Portrait | 1887-88 | Foundation E.G. Bührle Collection, Zürich (F366) |
| | Landscape with Snow | 1888 | Solomon R. Guggenheim Museum, New York (F290) |
| | Still Life: French Novels | 1888 | Van Gogh Museum, Amsterdam (F358) |
| | Still Life: Bottle, Oranges, and a Basket of Lemons | 1888 | Kröller-Müller Museum, Otterlo, Netherlands (F384) |
| | Still Life: Potatoes in a Yellow Dish | 1888 | Kröller-Müller Museum, Otterlo, Netherlands (F386) |
| | A Pork-Butcher's Shop Seen from a Window | 1888 | Van Gogh Museum, Amsterdam, Netherlands (F389) |
| | An Old Woman of Arles | 1888 | Van Gogh Museum, Amsterdam, Netherlands (F390) |
| | Snowy Landscape with Arles in the Background | 1888 | Private Collection, London (F391) |
| | Blossoming Almond Branch in a Glass | 1888 | Van Gogh Museum, Amsterdam, Netherlands (F392) |
| | Blossoming Almond Branch in a Glass with a Book | 1888 | Private collection (F393) |
| | Pink Peach Tree in Blossom (Souvenir de Mauve) | 1888 | Kröller-Müller Museum, Otterlo, Netherlands (F394) |
| | Still Life with Basket and Six Oranges | 1888 | Private collection (F395) |
| | The Gleize Bridge over the Vigueirat Canal | 1888 | Private collection (F396) |
| | The Langlois Bridge at Arles with Women Washing | 1888 | Kröller-Müller Museum, Otterlo, Netherlands (F397) |
| | Avenue of Plane Trees near Arles Station | 1888 | Musée Rodin, Paris, France (F398) |
| | Apricot Trees in Blossom | 1888 | Collection Continental Art Holdings, Ltd., Johannesburg (F399) |
| | The Langlois Bridge at Arles with Road Alongside the Canal | 1888 | Van Gogh Museum, Amsterdam (F400) |
| | The White Orchard | 1888 | Van Gogh Museum, Amsterdam (F403) |
| | Peach Tree in Blossom | 1888 | Van Gogh Museum, Amsterdam, Netherlands (F404) |
| | Blossoming Pear Tree | 1888 | Van Gogh Museum, Amsterdam (F405) |
| | Orchard and House with Orange Roof (Orchard in Blossom) | 1888 | Private Collection, Switzerland (F406) |
| | Path Through a Field with Willows, b/w copy | 1888 | Private collection (F407) |
| | Farmhouse in a Wheat Field | 1888 | reportedly at Van Gogh Museum, Amsterdam (F408) |
| | View of Arles with Irises in the Foreground (Field with Flowers) | 1888 | Van Gogh Museum, Amsterdam (F409) |
| | Still Life: Coffeepot, Earthenware and Fruit | 1888 | Collection Basil P. and Elise Goulandris, Lausanne, Switzerland (F410) |
| | Wheat Field also Wheat Field with the Alpilles Foothills in the Background | 1888 | Van Gogh Museum, Amsterdam, Netherlands (F411) |
| | The Harvest also Harvest at La Crau, with Montmajour in the Background | 1888 | Van Gogh Museum, Amsterdam, Netherlands (F412) |
| | Fishing Boats on the Beach at Saintes-Maries | June 1888 | Van Gogh Museum, Amsterdam, Netherlands (F413) |
| | The Sea at Les Saintes-Maries-de-la-Mer | 1888 | Van Gogh Museum, Amsterdam (F415) |
| | View of Saintes-Maries | 1888 | Kröller-Müller Museum, Otterlo, Netherlands (F416) |
| | Seascape at Saintes-Maries (Fishing Boats at Sea) | 1888 | Pushkin Museum, Moscow, Russia (F417) |
| | Three White Cottages in Saintes-Maries | 1888 | Kunsthaus Zürich (F419) |
| | Street in Saintes-Maries | 1888 | Private Collection (F420) |
| | The Sower with Setting Sun (Sower upper right quadrant) | 1888 | Kröller-Müller Museum, Otterlo, Netherlands (F422) |
| | The Zouave (Half-Figure) | 1888 | Van Gogh Museum, Amsterdam, Netherlands (F423) |
| | The Seated Zouave | 1888 | Private collection (F424) |
| | Wheat Stacks in Provence or Haystacks in Provence | June, 1888 | Kröller-Müller Museum, Otterlo, Netherlands (F425) |
| | The Trinquetaille Bridge over the Rhone (View of a River, Quay, and Bridge) | 1888 | Collection Joseph Hackmey, Israel (F426) |
| | Rubin du Roi Canal with Women Washing | 1888 | Private Collection, New York (F427) |
| | Sunny Lawn in a Public Park (Newly Mowed Lawn with Weeping Tree) | 1888 | Private Collection, Zürich, Switzerland (F428) |
| | Flowering Garden | 1888 | Private Collection (F429) |
| | Flowering Garden with Path | 1888 | Gemeentemuseum Den Haag, The Hague, Netherlands (F430) |
| | La Mousmé | 1888 | National Gallery of Art, Washington, D.C. (F431) |
| | Portrait of the Postman Joseph Roulin, Sitting in a Cane Chair, Three-Quarter-Length | early August 1888 | Museum of Fine Arts, Boston, Massachusetts (F432) |
| | Portrait of Postman Roulin | early August 1888 | Detroit Institute of Arts, Michigan (F433) |
| | Portrait of the Postman Joseph Roulin | 1888 | Kunstmuseum Winterthur, Switzerland (F434) |
| | Postman Joseph Roulin | April 1888 | Barnes Foundation, Merion Station, Pennsylvania (F435) |
| | Portrait of the Postman Joseph Roulin | April 1888 | Museum of Modern Art, New York, New York (F436) |
| | Coal Barges | 1888 | Private collection, Maryland (F437) |
| | Coal Barges also The Unloaders in Arles | 1888 | Museo Thyssen, Madrid Spain (F438) |
| | Portrait of Joseph Roulin | 1888 | Kröller-Müller Museum, Otterlo, Netherlands (F439) |
| | Roulin's Baby | 1888 | National Gallery of Art, Washington D.C. (F440) |
| | Portrait of Marcelle Roulin | 1888 | Van Gogh Museum, Amsterdam (F441) |
| | The Baby Marcelle Roulin | 1888 | Fondation Socindec, Vaduz, Liechtenstein (F441a) |
| | Portrait of Patience Escalier (The Old Peasant) | 1888 | Norton Simon Museum, Pasadena, California (F443) |
| | Portrait of Patience Escalier; Shepherd in Provence | 1888 | Niarchos Collection, Zürich (F444) |
| | Encampment of Gypsies with Caravans | 1888 | Musée d'Orsay, Paris, France (F445) |
| | Railway Carriages, (b/w copy) | 1888 | Musée Angladon, Avignon, France (F446) |
| | Thistles | 1888 | Tate Gallery, London (F447) |
| | Two Thistles | 1888 | Private collection (F447a) |
| | The Painter on His Way to Work on the Road to Tarascon | 1888 | Destroyed by Fire in World War II; Formerly in the Kaiser Friedrich-Museum, Magdeburg, Germany (F448) |
| | The Rhônebarken also Quay with Men Unloading Sand Barges | 1888 | Folkwang Museum, Essen, Germany (F449) |
| | The Sower with Setting Sun (with diagonal tree trunk) (on burlap) | 1888 | Foundation E.G. Bührle Collection, Zurich, Switzerland (F450) |
| | The Sower with Setting Sun (with diagonal tree trunk)(on canvas) | 1888 | Van Gogh Museum, Amsterdam, Netherlands (F451) |
| | Three Sunflowers in a Vase | 1888 | Private Collection (F453) |
| | Still Life: Vase with Fifteen Sunflowers | 1888 | National Gallery, London, England (F454) |
| | Still Life: Vase with Twelve Sunflowers | 1888 | Neue Pinakothek, Munich (F456) |
| | Five Sunflowers in a Vase | 1888 | Destroyed by Fire in World War II in Ashiya, Japan, 6 August 1945 (F459)[5] |
| | A Pair of Old Shoes | 1888 | Metropolitan Museum of Art, New York, New York (F461) |
| | Portrait of Eugene Boch | 1888 | Musée d'Orsay, Paris, France[6] (F462) |
| | The Night Café | 1888 | Yale University Art Gallery, New Haven, Connecticut (F463) |
| | The Yellow House | 1888 | Van Gogh Museum, Amsterdam (F464) |
| | Sunset: Wheat Fields Near Arles | 1888 | Kunstmuseum Winterthur, Switzerland (F465) |
| | Rocks with Oak Tree | 1888 | Museum of Fine Arts, Houston, Texas (F466) |
| | Cafe Terrace at Night | 1888 | Kröller-Müller Museum, Otterlo, Netherlands (F467) |
| | Poet's Garden with Round Clipped Shrub and Weeping Tree | 1888 | Art Institute of Chicago, Chicago, Illinois (F468) |
| | A Lane in the Public Garden at Arles | 1888 | Kröller-Müller Museum, Otterlo, Netherlands (F470) |
| | The Park at Arles with the Entrance Seen through the Trees | 1888 | Destroyed during fire World War II (F471) |
| | The Public Park at Arles | 1888 | Private collection (F472) |
| | Portrait of Milliet; Second Lieutenant of the Zouaves | 1888 | Kröller-Müller Museum, Otterlo, Netherlands (F473) |
| | Starry Night Over the Rhone | 1888 | Collection Mr. and Mrs. R. Kahn-Sriber (on loan to the Musée d'Orsay,Paris) (F474) |
| | The Green Vineyard | 1888 | Kröller-Müller Museum, Otterlo, Netherlands (F475) |
| | Self-Portrait (Dedicated to Paul Gauguin) | 1888 | Harvard Art Museums, Cambridge, Massachusetts (F476) |
| | Portrait of the Artist's Mother | 1888 | Norton Simon Museum, Pasadena, California (F477) |
| | The Brothel, (b/w copy) | 1888 | Barnes Foundation, Merion, Pennsylvania (F478) |
| | Tarascon Diligence (The Tarascon Stagecoach) | 1888 | The Henry and Rose Pearlman Foundation, Inc., New York (F478a) |
| | Poet's Garden with a Couple and a Blue Fir Tree (Poet's Garden III) | 1888 | Private Collection (F479) |
| | The Railway Bridge over Avenue Montmajour, Arles (with Pedestrians and Horse-drawn Cart) | 1888 | Private Collection (F480) |
| | The Trinquetaille Bridge | 1888 | Private Collection (F481) |
| | Bedroom in Arles | October 1888 | Van Gogh Museum, Amsterdam (F482) |
| | The Lovers: The Poet's Garden IV | 1888 | Location unknown, stolen in 1937 (F485) |
| | Falling Autumn Leaves (Les Alyscamps) | 1888 | Kröller-Müller Museum, Otterlo, Netherlands (F486) |
| | Falling Autumn Leaves (Les Alyscamps) | 1888 | Private collection (F487) |
| | L'Arlesienne: Madame Ginoux with Books | 1888 | Metropolitan Museum of Art, New York, New York (F488) |
| | L'Arlesienne: Portrait of Madame Ginoux | 1888 | Musée d'Orsay, Paris, France (F489) |
| | Portrait of Madame Augustine Roulin and Baby Marcelle | 1888 | Philadelphia Museum of Art, Pennsylvania (F490) |
| | Mother Roulin with Her Baby | 1888 | Metropolitan Museum of Art, New York, New York (F491) |
| | Portrait of Armand Roulin | 1888 | Museum Folkwang, Essen (F492) |
| | Portrait of Armand Roulin | 1888 | Museum Boijmans Van Beuningen, Rotterdam (F493) |
| | The Sower (van Gogh) | 1888 | Villa Flora, Winterthur, Switzerland (F494) |
| | The Red Vineyard | 1888 | Pushkin Museum, Moscow, only painting sold during the artist's liftetime, former collection Anna Boch (F495) |
| | Memory of the Garden at Etten (Ladies of Arles) | 1888 | Hermitage, St. Petersburg, Russia (F496) |
| | The Novel Reader | 1888 | Private collection (F497) |
| | Vincent's Chair with His Pipe | 1888 | National Gallery, London, England (F498) |
| | Paul Gauguin's Armchair | 1888 | Van Gogh Museum, Amsterdam (F499) |
| | Self-Portrait (Green Background, 3/4 Profile) | 1888 | Private Collection (F501) |
| | Portrait of Madame Augustine Roulin | 1888 | Oskar Reinhart Collection, Winterthur, Switzerland (F503) |
| | La Berceuse (Augustine Roulin) | December 1888 | Kröller-Müller Museum, Otterlo, Netherlands (F504) |
| | Orchard in Blossom | 1888 | Van Gogh Museum, Amsterdam (F511) |
| | Orchard Bordered by Cypresses | 1888 | Kröller-Müller Museum, Otterlo, Netherlands (F513) |
| | Self-Portrait as an Artist | 1888 | Van Gogh Museum, Amsterdam (F522) |
| | Self-Portrait with Pipe and Straw Hat | 1888 | Van Gogh Museum, Amsterdam, Netherlands (F524) |
| | Portrait of a One-Eyed Man | 1888 | Van Gogh Museum, Amsterdam (F532) |
| | Portrait of Joseph-Michel Ginoux also Portrait of a Man | 1888 | Kröller-Müller Museum, Otterlo, Netherlands (F533) |
| | The Smoker | 1888 | Barnes Foundation, Merion, Pennsylvania (F534) |
| | Girl with Ruffled Hair (The Mudlark) | 1888 | Musée des Beaux-Arts, La-Chaux-de-Fonds, Switzerland (F535) |
| | Young Man with a Cap (Armand Roulin) | 1888 | Private Collection, Zürich, Switzerland (F536) |
| | Portrait of Camille Roulin | 1888 | Philadelphia Museum of Art, Pennsylvania (F537) |
| | Portrait of Camille Roulin | 1888 | Van Gogh Museum, Amsterdam (F538) |
| | Two Lovers (Fragment) | 1888 | Location Unknown (F544) |
| | Arles: View from the Wheat Fields (Wheat Field with Sheaves and Arles in the Background) | 1888 | Musée Rodin, Paris, France (F545) |
| | Paul Gauguin (Man in a Red Beret) | 1888 | Van Gogh Museum, Amsterdam (F546) |
| | The Dance Hall in Arles | 1888 | Musée d'Orsay, Paris, France (F547) |
| | Les Arènes (Spectators in the Arena at Arles) | 1888 | Hermitage, St. Petersburg, Russia (F548) |
| | Interior of the Restaurant Carrel in Arles | 1888 | Private collection (F549) |
| | Interior of a Restaurant in Arles | 1888 | Private collection (F549a) |
| | The Old Mill, 1888 | 1888 | Albright-Knox Art Gallery, Buffalo, New York (F550) |
| | Orchard with Peach Trees in Blossom | 1888 | Private collection (F551) |
| | The Flowering Orchard (Cherry Tree) | 1888 | Metropolitan Museum of Art, New York (F552) |
| | Orchard in Blossom (Plum Trees) | 1888 | National Gallery of Scotland, Edinburgh, Scotland (F553) |
| | Orchard in Blossom, Bordered by Cypresses | 1888 | Private Collection, New York (F554) |
| | Apricot Trees in Bloom also Pink Trees | 1888 | Van Gogh Museum, Amsterdam, Netherlands (F555) |
| | Apricot Trees in Blossom | 1888 | Private collection, Johannesburg (F556) |
| | Almond Tree in Blossom | 1888 | Van Gogh Museum, Amsterdam (F557) |
| | Harvest in Provence | 1888 | Israel Museum, Jerusalem (F558) |
| | Wheat Stacks with Reaper | 1888 | Toledo Museum of Art Toledo, Ohio (F559) |
| | Wheat Field with Sheaves, Arles | 1888 | Honolulu Museum of Art, Honolulu, Hawaii (F561) |
| | Green Ears of Wheat | 1888 | Israel Museum, Jerusalem (F562) |
| | Wheat Field | 1888 | P. and N. de Boer Foundation, Amsterdam (F564) |
| | Farmhouse in Provence, also Entrance Gate to a Farm with Haystacks | 1888 | National Gallery of Art, Washington, D.C. (F565) |
| | Entrance to the Public Park in Arles (Man Reading a Newspaper in the Public Garden) | 1888 | The Phillips Collection, Washington, D.C. (F566) |
| | A Lane near Arles (Landscape with Edge of a Road) | 1888 | Pommersches Landesmuseum, Greifswald, Germany (F567) |
| | Les Alyscamps | 1888 | Collection Basil P. and Elise Goulandris, Lausanne, Switzerland (F568) |
| | L'allée des Alyscamps | 1888 | Niarchos Collection, Zürich (F569) |
| | Langlois Bridge at Arles, and Woman with an Umbrella | 1888 | Wallraf-Richartz Museum, Cologne, Germany (F570) |
| | The Langlois Bridge at Arles | 1888 | Private collection (F571) |
| | Pollard Willows with Setting Sun, aka "Willows at Sunset" | 1888 | Kröller-Müller Museum, Otterlo, Netherlands (F572) |
| | Trunk of an Old Yew Tree | 1888 | Private Collection (F573) |
| | Ploughed Field | 1888 | Van Gogh Museum, Amsterdam (F574) |
| | Landscape Under a Stormy Sky | 1888 | Fondation Pierre Gianadda, Martigny, Switzerland (on loan) assume from Fondation Socindec, Vaduz, Liechtenstein (F575) |
| | The Sower: Outskirts of Arles in the Background | 1888 | Hammer Museum, Los Angeles (F575a) |
| | Farmhouses in Wheat Field Near Arles | 1888 | P. and N. de Boer Foundation, Amsterdam, Netherlands or Van Gogh Museum, Amsterdam, Netherlands (F576) |
| | Garden with Flowers (Behind a House) | 1888 | Private Collection (F578) |
| | Still Life: Bowl with Daisies (Pot with Flowering Plant) (b/w copy) | 1888 | Virginia Museum of Fine Arts, Richmond, Virginia (F591) |
| | Still Life: Vase with Zinnias | 1888 | Private collection (F592) |
| | Still Life: Majolica Jar with Oleanders and Books | 1888 | Metropolitan Museum of Art, New York, New York (F593) |
| | Still Life: Vase with Oleanders | 1888 | Location unknown, possibly stolen (F594) |
| | Still Life: Majolica Jug with Wildflowers | 1888 | Barnes Foundation, Merion, Pennsylvania (F600) |
| | A Pair of Leather Clogs | 1888 | Van Gogh Museum, Amsterdam, Netherlands (F607) |
| | The Schoolboy with Uniform Cap (Camille Roulin) | 1888 | São Paulo Museum of Art, São Paulo, Brazil (F665) |
| | Vincent's House in Arles, (The Yellow House), watercolor | 1888 | Van Gogh Museum, Amsterdam (F1413) |
| | Breton Women and Children (after Émile Bernard, watercolor) | November 1888 | Galleria d'Arte Moderna, Milano, Italy (F1422) |
| | Langlois Bridge at Arles, watercolor | 1888 | Private collection (F1480) |
| | Wheat Fields with Stacks | 1888 | Private collection (no catalog F number, JH 1478) |
| | Sunset at Montmajour | July 1888 | Van Gogh Museum, Amsterdam, Netherlands (no catalog F number) |
| | Still Life: Plate with Two Red Herrings | 1889 | Private Collection (F283a) |
| | Two White Butterflies | 1889 | Van Gogh Museum, Amsterdam (F402) |
| | Still Life: Vase with Twelve Sunflowers | 1889 | Philadelphia Museum of Art, Philadelphia, Pennsylvania (F455) |
| | Still Life: Vase with Fifteen Sunflowers | 1889 | Sompo Japan Museum of Art, Tokyo, Japan (F457) |
| | Still Life: Vase with Fifteen Sunflowers | 1889 | Van Gogh Museum, Amsterdam, Netherlands (F458) |
| | Grass and Butterflies | 1889 | Private collection (F460) |
| | Bedroom in Arles | September 1889 | Musée d'Orsay, Paris (F483) |
| | Bedroom in Arles | September 1889 | Art Institute of Chicago (F484) |
| | Portrait of Doctor Felix Rey | 1889 | Pushkin Museum, Moscow, Russia (F500) |
| | Still Life: Blue Gloves and Basket with Oranges and Lemons | 1889 | Private Collection (F502) |
| | La Berceuse (Woman Rocking a Cradle; Augustine-Alix Pellicot Roulin) | 1889 | Metropolitan Museum of Art, New York (F505) |
| | La Berceuse (Augustine Roulin) | 1889 | Stedelijk Museum, Amsterdam (F507) |
| | Madame Roulin Rocking the Cradle (La Berceuse) | 1889 | Art Institute of Chicago (F508) |
| | Still Life: Bloaters on a Piece of Yellow Paper | 1889 | Private collection (F510) |
| | The Crau with Peach Trees in Bloom | 1889 | The Courtauld Institute Galleries, London, England (F514) |
| | View of Arles with Trees in Blossom (Orchard in Bloom with View of Arles) | April 1889 | Van Gogh Museum, Amsterdam (F515, JH1683) |
| | View of Arles, Flowering Orchards | 1889 | Neue Pinakothek, Munich, Germany (F516) |
| | Red Chestnuts in the Public Park at Arles (b/w copy) | 1889 | Private collection (F517) |
| | The Courtyard of the Hospital at Arles | 1889 | The Oskar Reinhart Collection 'Am Römerholz', Winterthur, Switzerland (F519) |
| | Pollard Willows | 1889 | Tate Gallery, London (F520) |
| | Self-Portrait without Beard also Portrait de l'artiste sans barbe † | 1889 | Private collection (F525) |
| | Self-Portrait with Bandaged Ear | 1889 | Courtauld Institute of Art, London (F527) |
| | Self-Portrait with Bandaged Ear and Pipe | 1889 | Tate Gallery, London (F529) |
| | Portrait of a Young Peasant | 1889 | Museum of Modern Art, Rome, Italy (F531) |
| | Lilacs | 1889 | Hermitage, St. Petersburg, Russia (F579) |
| | Roses | 1889 | The National Museum of Western Art, Tokyo (F580) |
| | Field with Poppies | 1889 | Kunsthalle Bremen, Bremen, Germany (F581) |
| | Clumps of Grass | 1889 | Private collection (F582) |
| | A Field of Yellow Flowers | 1889 | Kunstmuseum Winterthur, Switzerland (F584) |
| | Olive Orchard | Mid-June, 1889 | Kröller-Müller Museum, Otterlo, Netherlands (F585) |
| | Olive Grove: Orange Sky | November, 1889 | Göteborgs Museum of Art, Gõteborg, Sweden (F586) |
| | Olive Orchard with a Man and a Woman Picking Fruit | December, 1889 | Kröller-Müller Museum, Otterlo, Netherlands (F587) |
| | The Iris | 1889 | National Gallery of Canada, Ottawa, Canada (F601) |
| | Still Life: Drawing Board, Pipe, Plate with Onions, "Annuaire de la Santé," and Sealing-Wax | 1889 | Kröller-Müller Museum, Otterlo, Netherlands (F604) |
| | Crab on its Back | 1888 | Van Gogh Museum, Amsterdam, Netherlands (F605) |
| | Two Crabs | 1889 | Faggionato Fine Arts, London (F606) |
| | Irises † | 1889 | Getty Museum, Los Angeles (F608) |
| | Ivy (A Corner in the Garden of Saint-Paul Hospital) | 1889 | Location unknown (F609) |
| | Great Peacock Moth (Death's-Head Moth on an Arum) | 1889 | Van Gogh Museum, Amsterdam, Netherlands (F610) |
| | Mountainous Landscape Behind Saint-Paul Hospital | 1889 | Ny Carlsberg Glyptotek, Copenhagen, Denmark (F611) |
| | The Starry Night | 1889 | Museum of Modern Art, New York City (F612) |
| | Cypresses | 1889 | Metropolitan Museum of Art, New York, New York (F613) |
| | A Wheat Field, with Cypresses | September 1889 | National Gallery, London, England (F615) |
| | Wheat Field with Reaper and Sun also see Wheat Fields (Van Gogh series) | June-Sept 1889 | Kröller-Müller Museum, Otterlo, Netherlands (F617) |
| | Wheat Field with a Reaper | September, 1889 | Van Gogh Museum, Amsterdam, Netherlands (F618) |
| | Wheat Field Behind Saint-Paul Hospital with a Reaper | September, 1889 | Museum Folkwang, Essen, Germany (F619) |
| | Cypresses with Two Female Figures | 1889 | Kröller-Müller Museum, Otterlo, Netherlands (F620) |
| | Mountains at Saint-Rémy | 1889 | Solomon R. Guggenheim Museum, New York (F622) |
| | Huts surrounded by olive trees and cypresses also Wooden Sheds | 1889 | Van Gogh Museum, Amsterdam (F623) |
| | Half Figure of an Angel (after Rembrandt) | 1889 | Location unknown (F624) |
| | Enclosed Field with Ploughman | 1889 | Private collection (F625) |
| | Self-Portrait | 1889 | National Gallery of Art, Washington, D.C. (F626, JH1770) |
| | Self-Portrait | 1889 | Musée d'Orsay, Paris, France (F627) |
| | Portrait of Trabuc; Chief Orderly at Saint-Paul Hospital | 1889 | Kunstmuseum Solothurn, Solothrun, Switzerland (F629) |
| | The Pietà (after Delacroix) | 1889 | Van Gogh Museum, Amsterdam, Netherlands (F630) |
| | Portrait of Madame Trabuc (b/w copy) | 1889 | Hermitage, St. Petersburg, Russia (F631) |
| | The Sheep-Shearers (after Millet) | 1889 | Van Gogh Museum, Amsterdam, Netherlands (F634) |
| | Entrance to a Quarry near Saint-Remy | 1889 | Private Collection (F635) |
| | Mulberry Tree (Van Gogh) | 1889 | Norton Simon Museum, Pasadena, California (F637) |
| | Two Poplars on a Road Through the Hills | 1889 | Cleveland Museum of Art, Cleveland, Ohio (F638) |
| | The Garden of Saint-Paul Hospital | October, 1889 | Private Collection (F640) |
| | Landscape at Saint-Rémy (Enclosed Field with Peasant) | 1889 | Indianapolis Museum of Art, Indianapolis, Indiana (F641) |
| | The Courtyard of the Hospital at Arles | 1889 | Private Collection (F642) |
| | Trees in the Garden in Front of the Entrance to Saint-Paul Hospital | 1889 | Hammer Museum, Los Angeles, California (F643) |
| | The Man is at Sea (after Demont-Breton) | 1889 | Private collection (F644) |
| | The Ravine (Les Peiroulets) | 1889 | Van Gogh Museum, Amsterdam, Netherlands (F645) |
| | Ward in the Hospital in Arles | 1889 | The Oskar Reinhart Collection 'Am Römerholz', Winterthur, Switzerland (F646) |
| | Evening: The Watch (after Millet) and Copies of Millet | 1889 | Van Gogh Museum, Amsterdam, Netherlands (F647) |
| | Two Peasants Digging (after Millet) | 1889 | Stedelijk Museum, Amsterdam, Netherlands (F648) |
| | Evening: The End of the Day (after Millet) | 1889 | Menard Museum of Art, Aichi, Japan (F649) |
| | Enclosed Field in Rain | 1889 | Philadelphia Museum of Art, Philadelphia, Pennsylvania (F650) |
| | Walk: Falling Leaves also Man Walking in a Wood with Falling Leaves | 1889 | Van Gogh Museum, Amsterdam, Netherlands (F651) |
| | Weatherbeaten Pine Trees against a Red Sky with Setting Sun | 1889 | Kröller-Müller Museum, Otterlo, Netherlands (F652) |
| | Pine Trees with Figure in the Garden of Saint-Paul Hospital also Hospital at Saint-Remy | 1889 | Musée d'Orsay, Paris, France (F653) |
| | Olive Picking | December, 1889 | Location Unknown (F654) |
| | Women Picking Olives | December, 1889 | Metropolitan Museum of Art, New York (F655) |
| | Women Picking Olives also Olive Pickers | December, 1889 | National Gallery of Art,Washington D.C. (F656) |
| | Road Menders at Saint-Rémy also The Large Plane Trees | 1889 | Cleveland Museum of Art, Ohio (F657) |
| | The Road Menders | 1889 | The Phillips Collection, Washington, D.C. (F658) |
| | A Corner of Saint-Paul Hospital | 1889 | Van Gogh Museum, Amsterdam (F659) |
| | A Corner of Saint-Paul Hospital and the Garden with a Heavy, Sawed-Off Tree | 1889 | Museum Folkwang, Essen, Germany (F660) |
| | The Ravine (Les Peiroulets) | 1889 | Kröller-Müller Museum, Otterlo, Netherlands (F661) |
| | The Ravine (Les Peiroulets) | 1889 | Museum of Fine Arts, Boston (F662) |
| | Landscape with Olive Tree and Mountains in the Background | December, 1889 | Location unknown (F663) |
| | The White Cottage Among the Olive Trees | December, 1889 | Private collection, Japan (F664) |
| | The Reaper (after Millet) | 1889 | Private Collection (F688) |
| | The Sower (after Millet) | 1889 | Kröller-Müller Museum, Otterlo, Netherlands (F689) |
| | The Sower (after Millet) | 1889 | Niarchos Collection, Zurich (F690) |
| | The Thresher (after Millet) | 1889 | Van Gogh Museum, Amsterdam (F692) |
| | The Sheaf-Binder (after Millet) | 1889 | Van Gogh Museum, Amsterdam, Netherlands (F693) |
| | Woman Spinning (after Millet) | 1889 | Collection Sara and Moshe Mayer, Geneva, Switzerland (F696) |
| | Peasant Woman Cutting Straw (after Millet) | 1889 | Van Gogh Museum, Amsterdam (F697) |
| | Peasant Woman with a Rake (after Millet) (b/w copy) | 1889 | Private collection (F698) |
| | The Shepherdess (after Millet) | 1889 | Tel Aviv Museum of Art, Israel (F699) |
| | Peasant Woman Binding Sheaves (after Millet) | 1889 | Van Gogh Museum, Amsterdam, Netherlands (F700) |
| | Two Diggers among Trees | 1889 | Detroit Institute of Arts, Detroit, Michigan (F701) |
| | Portrait of a Patient in Saint-Paul Hospital | 1889 | Van Gogh Museum, Amsterdam, Netherlands (F703) |
| | Enclosed Field with Ploughman | October, 1889 | Museum of Fine Arts, Boston, Massachusetts (F706) |
| | Olive Orchard | November, 1889 | Van Gogh Museum, Amsterdam, Netherlands (F707) |
| | Olive Orchard | November, 1889 | Metropolitan Museum of Art, New York (F708) |
| | Olive Trees: Bright Blue Sky | June, 1889 | Van Gogh Museum, Amsterdam, Netherlands (709) |
| | Olive Trees | November, 1889 | Minneapolis Institute of Arts, Minnesota (F710) |
| | Olive Trees | 1889 | Private Collection (F711) |
| | Olive Trees in a Mountainous Landscape (with the Alpilles in the Background) | June, 1889 | Museum of Modern Art, New York, New York (F712) |
| | Olive Trees | November, 1889 | National Gallery of Scotland, Edinburgh (F714) |
| | Olive Orchard | June, 1889 | Nelson-Atkins Museum of Art, Kansas City, Missouri (F715) |
| | Olive Trees Against a Slope of a Hill | 1889 | Van Gogh Museum, Amsterdam (F716) |
| | Wheat Field with Cypresses also see Wheat Field with Cypresses | 1889 | Metropolitan Museum of Art, New York (F717) |
| | Green Wheat Field | 1889 | Kunsthaus Zürich (F718) |
| | Green Wheat Field with Cypress | 1889 | Národní Gallery, Prague, Czech Republic (F719) |
| | Enclosed Wheat Field with Rising Sun also see Saint-Remy, The Wheat Field, Spring and Summer | 1889 | Kröller-Müller Museum, Otterlo, Netherlands (F720) |
| | Wheat Fields in a Mountainous Landscape, also Meadow in the Mountains of Saint-Paul | 1889 | Kröller-Müller Museum, Otterlo, Netherlands (F721) |
| | Wheat Field Behind Saint-Paul Hospital, San Rémy | November, 1889 | Virginia Museum of Fine Arts, Richmond, Virginia (F722) |
| | At the Foot of the Mountains also Field with Pollard Trees and Mountainous Background (b/w copy) | 1889 | Van Gogh Museum, Amsterdam (F723) |
| | Le Mont Gaussier with the Mas de Saint-Paul (b/w copy) | 1889 | Private collection (F725) |
| | Landscape in the Neighbourhood of Saint-Rémy | 1889 | Location unknown, stolen in 1989 (F726) |
| | Valley with Ploughman Seen from Above (b/w copy) | 1889 | Hermitage Museum, St. Petersberg, Russia (F727) |
| | A Road at Saint-Remy with Female Figure | 1889 | Kasama Nichido Museum of Art, Ibaraki, Japan (F728) |
| | The Garden of Saint-Paul Hospital | October, 1889 | Private Collection (F730) |
| | Trees in the Garden of Saint-Paul Hospital | October, 1889 | Private Collection (F731) |
| | Stone Bench in the Garden of Saint-Paul Hospital | 1889 | São Paulo Museum of Art, Brazil (F732) |
| | Path in Pine Trees with Figure in the Garden of Saint-Paul Hospital | 1889 | Kröller-Müller Museum, Otterlo, Netherlands (F733) |
| | The Garden of Saint-Paul Hospital | May, 1889 | Kröller-Müller Museum, Otterlo (F734) |
| | Landscape with Wheat Sheaves and Rising Moon | 1889 | Kröller-Müller Museum, Otterlo, Netherlands (F735) |
| | Enclosed Field with Rising Sun also see Saint-Remy, The Wheat Field, Fall and Winter | 1889 | Private Collection (F737) |
| | Field with Two Rabbits | 1889 | Van Gogh Museum, Amsterdam (F739) |
| | Study of Pine Trees in the Garden of Saint-Paul Hospital | 1889 | Kröller-Müller Museum, Otterlo, Netherlands (F742) |
| | Wheat Field with Cypresses | September 1889 | Tate Gallery, London, England (F743) |
| | Entrance to a Quarry | 1889 | Van Gogh Museum, Amsterdam, Netherlands (F744) |
| | Undergrowth with Ivy | 1889 | Van Gogh Museum, Amsterdam (F745) |
| | Undergrowth with Ivy | 1889 | Van Gogh Museum, Amsterdam (F746) |
| | Tree Trunks with Ivy | 1889 | Kröller-Müller Museum, Otterlo, Netherlands (F747) |
| | The Pietà (after Delacroix), first version | 1889 | Vatican Collection of Modern Religious Art, Vatican City (F757) |
| | View of the Asylum and Chapel at Saint Remy | 1889 | Collection of Elizabeth Taylor (F803) |
| | Landscape with Trees and Figures | 1889 | Baltimore Museum of Art, Baltimore, Maryland (F818) |
| | Flowering Rosebushes in the Asylum Garden | 1889 | Kröller-Müller Museum, Otterlo, Netherlands (F1527) |
| | Corridor in Saint-Paul Hospital, Oil color and essence over black chalk on pink laid ("Ingres") paper | 1889 | Metropolitan Museum of Art, New York City (F1529) |
| | Entrance Hall of Saint-Paul Hospital, Black chalk, brush and thinned oil on pink paper | 1889 | Van Gogh Museum, Amsterdam (F1530) |
| | Lullaby: Madame Augustine Roulin Rocking a Cradle (La Berceuse) | 1889 | Museum of Fine Arts, Boston, Massachusetts (F unk) |
| | Still Life: Red Poppies and Daisies | 1890 | Private Collection (F280) |
| | The Little Arlesienne (Head of a Girl) | 1890 | Kröller-Müller Museum, Otterlo, Netherlands (F518) |
| | L'Arlesienne (Madame Ginoux) | 1890 | Museum of Modern Art, Rome, Italy (F540) |
| | L'Arlesienne (Portrait of Madame Ginoux) | 1890 | Kröller-Müller Museum, Otterlo, Netherlands (F541) |
| | L'Arlesienne (Madame Ginoux) | 1890 | São Paulo Museum of Art, Brazil (F542) |
| | L'Arlesienne, Madame Ginoux | 1890 | Private collection (F543) |
| | Wheat Stacks with Reaper | 1890 | Toledo Museum of Art, Toledo, Ohio (F559) |
| | Wheat Stack Under Clouded Sky | July 1890 | Kröller-Müller Museum, Otterlo, Netherlands (F563) |
| | Still Life: Glass with Wild Flowers | 1890 | Private collection (F589) |
| | Still Life: Pink Roses | 1890 | Ny Carlsberg Glyptotek, Copenhagen (F595) |
| | Wild Roses | 1890 | Van Gogh Museum, Amsterdam (F597) |
| | Still Life: Glass with Carnations | 1890 | Private collection (F598) |
| | Still Life: Vase with Flower and Thistles | 1890 | Private collection (F599) |
| | Cypresses and Two Women | 1890 | Van Gogh Museum, Amsterdam, Netherlands (F621) |
| | Plough and the Harrow (after Millet) | 1890 | Van Gogh Museum, Amsterdam, Netherlands (F632) |
| | The Good Samaritan (after Delacroix) | 1890 | Kröller-Müller Museum, Otterlo, Netherlands (F633) |
| | Field with Poppies | 1890 | Gemeentemuseum, The Hague, Netherlands (F636) |
| | Men Drinking (after Daumier) | 1890 | Art Institute of Chicago, Chicago, Illinois (F667) |
| | The First Steps (after Millet) and Copies after Millet | 1890 | Metropolitan Museum of Art, New York, New York (F668) |
| | Prisoners' Round (Exercising)(after Gustave Doré) | 1890 | Pushkin Museum, Moscow, Russia (F669) |
| | The Woodcutter (after Millet) | 1890 | Van Gogh Museum, Amsterdam, Netherlands (F670) |
| | Almond Blossoms | 1890 | Van Gogh Museum, Amsterdam (F671) |
| | Field of Grass with Butterflies and Flowers | 1890 | National Gallery, London, England (F672) |
| | Cottages: Reminiscence of the North | March – April, 1890 | Private collection (F673) |
| | Thatched Cottages in the Sunshine: Reminiscence of the North | 1890 | Barnes Foundation, Merion, Pennsylvania (F674) |
| | Cottages and Cypresses: Reminiscence of the North | March – April, 1890 | Van Gogh Museum, Amsterdam (F675) |
| | Pine Tree Trunks and Dandelions in the Garden of Saint-Paul Hospital | 1890 | Kröller-Müller Museum, Otterlo, Netherlands (F676) |
| | The Raising of Lazarus (after Rembrandt) | 1890 | Van Gogh Museum, Amsterdam, Netherlands (F677) |
| | Still Life: Vase with Violet Irises Against a Yellow Background | 1890 | Van Gogh Museum, Amsterdam, Netherlands (F678) |
| | Vase with Violet Irises Against a Pink Background | 1890 | Metropolitan Museum of Art, New York, New York (F680) |
| | Vase with Pink Roses, also Roses | 1890 | National Gallery of Art, Washington, D.C. (F681) |
| | Vase with Pink Roses | 1890 | Metropolitan Museum of Art, New York, New York (F682) |
| | Road with Cypress and Star | 1890 | Kröller-Müller Museum, Otterlo, Netherlands (F683) |
| | Morning: Peasant Couple Going to Work (after Millet) | 1890 | Hermitage Museum, St. Petersberg, Russia (F684) |
| | Noon: Rest from Work (after Millet) or Siesta | 1890 | Musée d'Orsay, Paris, France (F686) |
| | Peasants Lifting Potatoes | 1890 | Private collection (F694) |
| | Two Peasant Women Digging in a Snow-Covered Field at Sunset | 1890 | Foundation E.G. Bührle Collection, Zurich, Switzerland (F695) |
| | Old Man with His Head in His Hands (after the lithograph "At Eternity's Gate") | 1890 | Kröller-Müller Museum, Otterlo, Netherlands (F702) |
| | Couple Walking among Olive Trees in a Mountainous Landscape with Crescent Moon | May, 1890 | São Paulo Museum of Art, São Paulo, Brazil (F704) |
| | The Little Stream Black and white image of color painting | 1890 | Private collection (F740) |
| | Poppies and Butterflies | 1890 | Van Gogh Museum, Amsterdam, Netherlands (F748) |
| | Roses and Beetle | 1890 | Van Gogh Museum, Amsterdam (F749) |
| | Cottages also Thatched Cottages | 1890 | Hermitage Museum, St. Petersberg, Russia (F750) |
| | Landscape with Cottages | 1890 | Van Gogh Museum, Amsterdam, Netherlands (F1640) |
| | Chestnut Trees in Blossom | 1890 | Private collection (F751) |
| | Blossoming Chestnut Trees | 1890 | Kröller-Müller Museum, Otterlo, Netherlands (F752) |
| | Portrait of Dr. Gachet † | 1890 | Private Collection (F753) |
| | Portrait of Dr. Gachet | 1890 | Musée d'Orsay, Paris (F754) |
| | Doctor Gachet's Garden in Auvers | 1890 | Musée d'Orsay, Paris, France (F755) |
| | Marguerite Gachet in the Garden | 1890 | Musée d'Orsay, Paris, France (F756) |
| | Thatched Cottages in Jorgus | 1890 | Private collection (F758) |
| | Houses in Auvers | 1890 | Toledo Museum of Art, Toledo, Ohio (F759) |
| | Landscape with a Carriage and a Train | 1890 | Pushkin Museum, Moscow (F760) |
| | The Fields | July 1890 | Private Collection (F761) |
| | Vineyards with a View of Auvers | 1890 | Saint Louis Art Museum, St. Louis, Missouri (F762) |
| | Wild Flowers and Thistles in a Vase | June, 1890 | Private collection (F763) |
| | Still Life: Japanese Vase with Roses and Anemones | 1890 | Musée d'Orsay, Paris (F764) |
| | Still Life: Vase with Rose-Mallows | 1890 | Van Gogh Museum, Amsterdam (F764a) |
| | Daubigny's Garden | 1890 | Van Gogh Museum, Amsterdam (F765) |
| | The White House at Night | 1890 | Hermitage Museum, Moscow (F766) |
| | Ears of Wheat | 1890 | Van Gogh Museum, Amsterdam, Netherlands (F767) |
| | Portrait of Adeline Ravoux (Half-Figure) | 1890 | Private Collection (F768) |
| | Portrait of Adeline Ravoux | 1890 | Private collection (F769) |
| | Landscape at Twilight also Landscape with the Chateau of Auvers at Sunset | 1890 | Van Gogh Museum, Amsterdam (F770) |
| | Sheaves of Wheat | July, 1890 | Dallas Museum of Art, Dallas, Texas (F771) |
| | Marguerite Gachet at the Piano | 1890 | Kunstmuseum Basel, Basel, Switzerland (F772) |
| | Undergrowth with Two Figures | 1890 | Cincinnati Art Museum, Cincinnati, Ohio (F773) |
| | Peasant Woman Against a Background of Wheat | 1890 | Private collection (Steven A. Cohen) (F774) |
| | Wheat Fields near Auvers | 1890 | Österreichische Galerie Belvedere, Vienna (F775) |
| | Daubigny's Garden | 1890 | Hiroshima Museum of Art, Hiroshima, Japan (F776) |
| | Daubigny's Garden with Black Cat | 1890 | Kunstmuseum Basel, Basel, Switzerland on extended loan from The Rudolf Staechelin Family Foundation (F777) |
| | Wheat Field Under Clouded Skies | 1890 | Van Gogh Museum, Amsterdam, Netherlands (F778) |
| | Wheat Field with Crows also see Auvers Wheat Harvest Series | 1890 | Van Gogh Museum, Amsterdam (F779) |
| | Thatched Roofs in Chaponval | 1890 | Kunsthaus Zürich (F780) |
| | Wheat Fields After the Rain (The Plain of Auvers) | July, 1890 | Carnegie Museum of Art, Pittsburgh, Pennsylvania (F781) |
| | Plain Near Auvers | July, 1890 | Neue Pinakothek, Munich, Germany (F782) |
| | Two Girls | 1890 | Musée d'Orsay, Paris (F783) |
| | Two Children | 1890 | Private collection (F784) |
| | Child with Orange | 1890 | Private collection (F785) |
| | Portrait of Adeline Ravoux | 1890 | Cleveland Museum of Art (F786) |
| | Young Man with Cornflower | 1890 | Private collection (F787) |
| | Girl in White also Young Girl Standing Against a Background of Wheat | 1890 | National Gallery of Art, Washington, D.C. (F788) |
| | The Church at Auvers | 1890 | Musée d'Orsay, Paris (F789) |
| | The Town Hall in Auvers on Bastille Day | 1890 | Private collection, Chicago (F790) |
| | The House of Pere Pilon | 1890 | Niarchos Collection, Zürich (F791) |
| | Thatched Cottages at Cordeville | 1890 | Musée d'Orsay, Paris, France (F792) |
| | Farms near Auvers also Thatched Cottages by a Hill | 1890 | Tate Gallery, London (F793) |
| | The House of Père Eloi also Vineyard and Houses | 1890 | Private collection, Switzerland (F794) |
| | Village Street and Steps in Auvers with Five Figures | 1890 | Saint Louis Art Museum, St. Louis, Missouri (F795) |
| | Village Street and Steps in Auvers with Two Figures | 1890 | Private collection (F796) |
| | View of Vessenots Near Auvers | 1890 | Museo Thyssen-Bornemisza, Madrid, Spain (F797) |
| | Bank of the Oise at Auvers | 1890 | Detroit Institute of Arts, Detroit, Michigan (F798) |
| | View of Auvers | 1890 | Van Gogh Museum, Amsterdam (F799) |
| | Wheat Fields with Auvers in the Background | July 1890 | Musée d'Art et d'Histoire (Geneva) (F801) |
| | Village Street in Auvers | 1890 | Finnish National Gallery, Helsinki (F802) |
| | Wheat Field at Auvers with White House | 1890 | The Phillips Collection, Washington D.C. (F804) |
| | Houses at Auvers | 1890 | Museum of Fine Arts, Boston (F805) |
| | Farmhouse with Two Figures | 1890 | Van Gogh Museum, Amsterdam (F806) |
| | Field with Green Wheat | 1890 | National Gallery of Art, Washington, D.C. (F807) |
| | Wheat Field with Cornflowers | July, 1890 | Beyeler Foundation, Riehen, Switzerland (F808) |
| | Auvers Wheat Harvest, Field with Wheat Stacks | July, 1890 | Beyeler Foundation, Riehen, Switzerland (F809) |
| | Landscape at Auvers in the Rain | 1890 | National Museum of Wales, Cardiff, Wales (F811) |
| | Wheat Fields | 1890 | Private collection, possibly Schweiz (F812) |
| | Garden in Auvers | June–July 1890 | Private collection (F814) |
| | Tree Roots | 1890 | Van Gogh Museum, Amsterdam (F816) |
| | The Grove | 1890 | Private collection (F817) |
| | Two Women Crossing the Fields | 1890 | McNay Art Museum, San Antonio, Texas (F819) |
| | Blossoming Chestnut Branches | 1890 | Foundation E.G. Bührle Collection, Zurich, Switzerland (F820) |
| | Blossoming Acacia Branches | 1890 | Nationalmuseum, Stockholm (F821) |
| | Cows (after Jordaens) | 1890 | Palais des Beaux-Arts de Lille, Lille, France (F822) |
for sale Vue de l'asile et de la Chapelle de Saint-Remy